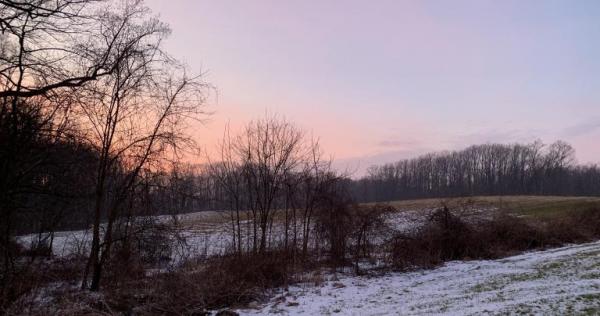 Deepest winter has finally blown in to our little corner of Pennsylvania. I had trouble sleeping last night because the wooden shutters on my bedroom windows were knocking on the walls, as if begging me to let them in. When I woke this morning and lifted the blind, the window nearest to my bed was coated in furry, feathery ice crystals. They looked more animal than mineral.
The tiny attic room I use as an office is too cold today, so I am writing this from the chair at the kitchen table nearest to the woodstove. When I dust the empty woodstove some day in July, I will remember today, and such cold will seem impossible. A figment of my imagination.
Such are the rhythms of the year.
*
More and more I am convinced that living well in this day requires holding the whole year in mind as well. Not, as we are so often tempted, to be so preoccupied with past regret and future worry that I am unable to be present in this day. Rather, it seems important to remember that this is a January day. A winter day.
I must attend to those things that belong uniquely to this season.
I can let go of the things that belong to other seasons.
For instance, I have lately felt burdened by so many unfinished house repairs. We brought this long kitchen table home two years ago, intending to restore it right away, but it still wears its stained, orange-tinted finish. The bedroom doors are peeling black paint. I can see beige and mint green beneath that. One hundred and forty years of paint will have to be stripped before they can receive anything fresh and new. I bought wallpaper for the kitchen months ago, but the rolls are still tucked up in boxes.
But today, standing up every so often to give the embers in the woodstove a stir, I remember the long days of summer. Those are days when it makes sense to refinish a table, and perhaps a few doors, in the still-sunny hours after dinner. I need not feel burdened by those projects today.
Remembering July, I am free to cultivate January. And how does January ask to be tended? What seeds do we plant this month?
Seeds of rest.
Seeds of waiting.
Seeds of stillness.
Seeds of anticipation.
*
Could it be that sitting, quietly, by the woodstove is purposeful? Could it be that I am planting seeds that can only be planted today?
It requires faith to believe such a thing. May our faith prove itself true when summer rolls around again.
May these seeds grow well. May they bear good fruit.
*
Here are a few of my favorite ways to cultivate rest this month:
How are you sowing seeds of rest this month?