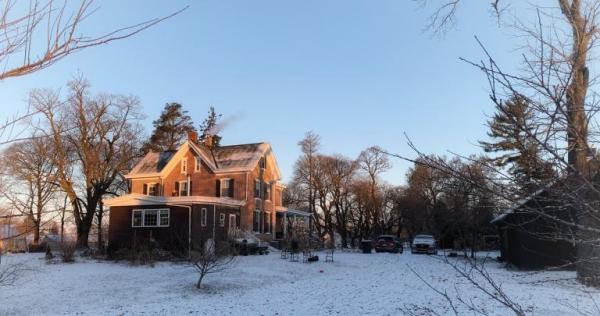 I love new beginnings.
I adore happy endings.
Well, to be honest, I adore a sad ending, too, as long as it's beautiful and safely contained within the pages of a book.
But what about middles? Despite all of our December caroling about bleak "midwinter," and whether you call the northern or the southern hemisphere home, February really does feel like the true seasonal middle.
Here in my little corner of Pennsylvania, we have already endured weeks of severe cold and a few winter storms, we have already skated on a frozen neighborhood retention pond, and my youngest has made two snow unicorns. Apparently, carrots make horns as well as they make noses.
Yesterday, the calendar page turned to February, and though the page was more virtual than real for me, nonetheless I turned it with relief.
If February is a middle, it is my favorite kind.
*
Beginnings and endings are easier to love. They are tidy, for one thing. There are few things quite so messy as a brownie taken from the middle of the pan. As it happens, I like those brownies best, but I do understand the appeal of those special zig-zag pans designed to give you only edges.
We could speak of other middles. I am in my forties. My children are all in school, no longer little, not quite big. I live in an old farmhouse where something is always messy and unfinished. Right now it is the new front steps my husband began building in the fall. Two steps are brick, one is uncovered concrete block, and nothing will be finished till spring brings warmer, drier weather.
There are all kinds of middles, but for obvious as well as varied reasons, they don't get a lot of love.
*
With each passing day of January, I felt my shoulders slump a little deeper. Maybe it was because February blew in with a gentle, all-day snow, but I suddenly felt as if my soul were sitting up a little straighter. A little easier.
Here is the beautiful thing about this February middle: I still have more winter pleasure to anticipate (more soft snow, more unicorn snow sculptures, more cozy nights by the fire), but spring is so much nearer.
That is the sweetness of the middle.
Still, I think this sort of sweetness can be an acquired taste. Perhaps, it's like licorice in that way. Here are three ways to cultivate an appreciation for life's many middles:
Call it what it is. Just naming it a middle, maybe even a messy middle, helps, doesn't it?
Put it in context. February won't last forever, and one day I'll miss these soft snowfalls. I'll definitely miss the chocolate hearts a friend sent me. So, today, I'm making a list of everything I love that belongs to February. I don't want to wake up in March and realize that I missed it.
Remember: boredom is good for you! That's what I am always saying to my kids, but maybe it's true for me, too. Middles aren't very exciting, but when we stop wishing away the boredom, when we embrace the daily ho-hum, all kinds of important things suddenly have space to grow. New dreams. New plans. New insights. Who knows?
There can be no spring without winter, and middles aren't just about marking time. They are purposeful. They are necessary. They are slow and sweet.
Tell me, do you have a favorite middle?
*p.s. I'm giving a gift to my future self and pre-ordering this book by my dear friend and Out of the Ordinary podcast co-host, Lisa-Jo Baker. It's time we celebrate the middle!