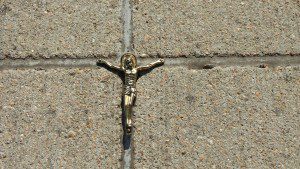 Sometime during the summer swelter, our family made the trip to a water park in a neighboring town. It had slides and beach chairs, a lazy river and a wave pool–and a funky climbing wall angling out over the water. Kids lined up to give it a try. They scrambled up, touched the top in triumph, and then dropped back into the pool.
I thought I would be able to handle this climbing wall. After all, the climbing wall on my sons' tree fort doesn't pose me any problem. Why should this one? I lined up with the kids. I would show those twelve-year-olds who was boss. On my turn, I took hold of the grips, flexed, and started my way up the wall.
Things deteriorated quickly. The grips were wet and slippery–nothing like our climbing wall back home. One of them spun. I couldn't get a perch for my feet. My grip weakened. I slipped. I plunged back into the water. Oh, the disgrace! I couldn't hang on.
Once, the scribes and Pharisees tested Jesus on his interpretation of the Scriptures, and they asked him what the most important command was (Matthew 22:3 6). You know the answer. Jesus said that we're to love God with all our heart, soul, and mind. We're to love our neighbor as ourselves. Jesus said that these two commandments are the heart and soul of the ancient Scriptures. On love of God and neighbor "hang all the law and the prophets" (22:40).
It's an interesting choice of words: hang. The law and the prophets get traction in love of God and neighbor. They're gripped by love. They're held by love. Without love, the law and the prophets lose their source and direction. Love makes sense of the law and the prophets.
Love of God is what gives us a place to hang onto when we don't understand. Love gives us a perch, a grip to hold. Things may go badly–very badly–but it's love of God that orients us, keeps us from slipping away. Love of God keeps us coming back to wrestle with God, even though we can't grasp what God is doing, or how God is present, or why God allows what God allows. We hang onto love.
There's another place in the New Testament where Jesus' word hang is used. It's in the crucifixion. Jesus was killed by "hanging on a tree" (Acts 5:30; 10:39). Love hangs on the cross. The cross gives us some small grasp of God's love. And–wonder of wonders–the cross is where God's love grasps us.