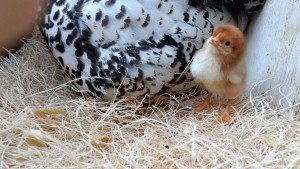 We interrupt our usual theological musings to bring you pictures of a cute chick.
After twenty-one days of incubation, this little guy was waiting for us when we opened the nest box on Sunday morning.  We named him "Little Red."  You can guess why from the pictures.
There were three eggs.  One gave us Little Red and another didn't hatch at all.  A third went bad, and mama hen broke it and ate the contents.  I'm not sure how a rotten egg works with my previous metaphor of the life of Christ secretly developing within us, but it is what it is.
With Little Red burrowing in up under his mama's warm plumage, it's hard not to think of Jesus' fervent desire to gather his people together "as a hen gathers her chicks under her wings" (Matthew 23:37).  To be God's people is to be a people gathered and sheltered by Christ.  This is on my mind in these Kansas spring days, with the temperature bouncing between afternoon warmth and morning chill.  Everything's wet with rain.  And so while eggs and chicks are usually signs of new life, Little Red is more an icon of fragility.  There's an awful lot that can go wrong for a chick.  There are no guarantees.
We set out on our journey of Lent with a reminder of our own fragility: "Remember that you are dust, and to dust you shall return."  We were marked with the ashes because we are "but dust and ashes" (Genesis 18:27).  Fragile stuff.  But the mark was cruciform, because Christ has made our fragility his own.
I wish our faith meant we became big and impervious.  But there are no guarantees.  Our lives are laced with disappointments and weaknesses and struggles and fears and confusion.  Yet life in Christ is also signed with the cruciform mark.  We're reminded of this during Lent.  Where our fragile lives meet Christ's cross, we are gathered and sheltered.  We are loved.