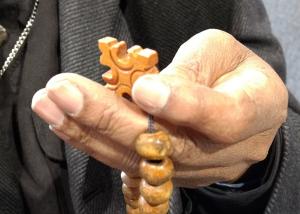 I was waiting for a flight in the airport when I ran into an elderly priest-monk from the Ethiopian Orthodox church.  He was sitting in a wheelchair with a set of 99 prayer beads in one hand and a wooden cross in the other.  I was walking to the drinking fountain when he caught me and asked in broken English, "Am I at the right place?"  He was on his way to Ethiopia, and we were in an area for domestic flights, but we got it figured out.
I asked him if he could tell me about his prayer beads.  A fumbling, head-nodding, gesturing conversation ensued, at the end of which he asked me if I was Orthodox.  I told him I was Christian, but not Orthodox.  And then, unbidden, he blessed me, tracing the sign of the cross in the air with his wooden cross.
This man was ready to bless.  I showed up at the airport with a backpack full of books and snacks and water, but he traveled with prayer beads and a cross.  He came prepared, ready to speak a word of God's good mercy over a curious stranger.  He did like Aaron and Jesus and Paul, tracing a blessing upon God's people (Numbers 6:24-26; Mark 10:16; Romans 15:13).  Upon me.
Blessing is baked right in to what it means to be the people of God. We are blessed, and that blessing overflows into the lives of others.  Blessing is a sign of God's love and care for everyone.  The church sends the people out each week with a charge and a blessing.  We bless babies, bless homes, bless lives to join them in marriage, bless bodies as we commit them to the earth.  To bless is to speak a word that does what it signifies, impressing God's goodness into life.
Sometimes, we cheapen blessing, using it like a tissue to clean up after sneezes (though I would never turn down any blessing, even those little puffs).  Perhaps we toss blessings around cheaply because we recognize that they're free–expressions of God's love, borne into the world on rickety words.  "Freely you have received; freely give," Jesus told the apostles (Matthew 10:8 NIV).  Jesus has given us five talents worth of blessing and sent us out (Matthew 25:14-30).  We can't bury it.  We have to spend it down, invest it into the lives of others.  Blessed are you, poor and persecuted, hungering and thirsting for righteousness, merciful and pure in heart and peacemakers (Matthew 5:1-12)!
Blessing doesn't come with many strings attached.  We cannot always bless everything that people do, their actions and words that stand in contradiction to the witness of Christ.  But more often than not, we can bless people, regardless of where they're at on their spiritual journey.
When I was just starting out as a pastor, I once got all persnickety about a couple who wanted to have their baby dedicated in our church, even though they didn't attend church.  They needed to be instructed in the meaning of baby dedication!
An older pastor pulled me aside.  "Look," he said.  "They just want someone to bless their baby."  Oh.  I could probably handle that.
Are we ready to bless?  Are we ready to speak a word of God's kindness into people's lives?  It doesn't have to be much.  It doesn't have to be long.  In fact, we're better off if it's not.  "The Lord bless you and keep you," will do.  It just has to be authentic, soul-deep and true, a word spoken in Christ's stead out of our vocation as kings and priests (Revelation 1:6).
Blessed be the God and Father of our Lord Jesus Christ, who has blessed us in Christ with every spiritual blessing in the heavenly places. – Ephesians 1:3