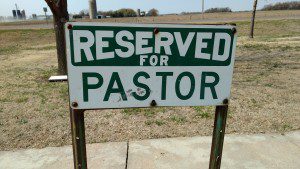 It's Tuesday morning.  Do you know where your pastor is?
He or she may be banging around in the office, hunting for next week's sermon.
Pastors have been entrusted with the sacred task of proclaiming the word of God "in season and out of season" (2 Timothy 4:2 NIV).   Preaching (or at least, good preaching) requires a willingness to speak God's word, a dose of creativity, and a sensitivity to the needs of the listening church.  Preaching the word involves  listening to God and listening to the people.  It's delivering the word of God for the people of God.
This is a humanly impossible task.  Just who do we think we are, standing up and speaking for the Lord of the universe?  What audacity!  Yet that's just what we're doing when we proclaim the word of God.  I once entered a church whose pulpit had two wooden knobs on either side of it.  I imagined the preacher gripping those knobs, white knuckled and swaying as he rode the sermon out.  It may be that he needed help to stand before the congregation, but my bet is on him needing help to stand before God.  It's a fairly terrifying thing to speak the word of God.  And speak the word of God we must.  Our folks wants the opposite of what Moses' congregation did: people don't come to church to hear from us.  They want to hear from God (Exodus 20:19).
Good preaching takes creativity, an eye for a story.  We have to plumb the depths of God's word, but also the depths of our own experience and craft.  It can be exhausting at times.  I often feel like the disciples, dropping my nets down into the deep water one more time, even though I've been fishing all night long (Luke 5:4).  And creativity is just as mysterious as fishing with Jesus.  We'll pull in some silvered image.  We'll remember some story: that one time on the subway, that icy patch on the hill, that little boy holding his hockey stick as he pondered theodicy.  We'll hide the word in our catch of stories, like zookeepers sliding vitamin capsules into the seals' snack.
Preaching requires us to be sensitive to the needs of the listening church.  As preacher-professor Fred Craddock once put it, the goal of preaching is "not to get something said, but to get something heard" (
Preaching
, p. 167).  On a couple of occasions, I've preached the same sermon in two congregations: one in middle class America, one in an Andean village.  It hasn't worked well.  My Peruvian friends heard the sermon differently than my American congregation had.  They chuckled at what I thought were strange places.  They missed my crescendoing amen-lines.  Their lives and experiences are unique, and so God's unchanging word has to reach them in their unique context.
In the end, it's never easy to tell if we've done the work of preaching well.  I almost wish there were judges standing at the back of the sanctuary to lift up numbered cards.  A perfect 10!
And sometimes the work of a sermon happens slowly, days or weeks after the fact as it niggles someone's heart in its proclamatory half-life.
But there are the occasional words of affirmation that buoy us along, the times when we hear something more than "nice sermon, preacher."  I once preached my heart out, offering up God's word to God's people.  A visitor caught me after the service.  "That was a nice sermon," she said.  "Can I ask you a question?"
"Sure," I responded.
"Did you find that sermon on the internet?"
Sigh.  In any case, I took it as sideways compliment, a sign of my growth in the art of proclaiming God's word.  Mark that day: I had preached a sermon worthy of the internet.