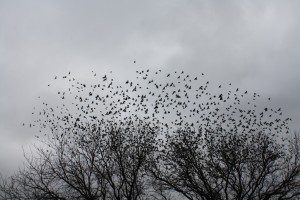 When the apostle Peter was thrown into prison by king Herod, the believers in Jerusalem prayed "fervently" to God for him (Acts 12:5). They didn't have the power to fix the situation. The whole Jesus project would seem to have been in danger of coming unraveled. Herod had just killed James the brother of John (Acts 12:2). And now he had Peter. Their backs were against the wall, so the church prayed fervently.
In a way that was surprising to all involved, including Peter, who thought it was all a dream, and the church, who thought it was Peter's angel–a messenger from God to console them in a lost situation. But no, their fervent prayers had opened up a door for God's power to disrupt the usual order of things, the typical structures of unjust power. Peter was free. The church thrived.
Prayer's power is a theme woven throughout the book of Acts. Cornelius is told that his years of prayer and alms have "ascended as a memorial before God" (10:4). Through fasting and prayer, the Holy Spirit directed the church to set apart and send off Paul and Barnabas as missionaries (Acts 13:3). Paul and Silas's hymns and prison prayers provoke an earthquake that frees them from the prison in Philippi and frees the Philippian jailer to receive the gospel (16:25).
Do we pray like the early church, like the apostles, like the Gentile centurion longing for a doorway into the covenant? Do we pray fervently, ready for the usual order of things to be disrupted, for Jesus to show up and be at work in ways that are surprising to all?
Prayer changes things, often unexpectedly. No doubt this is why Paul spoke of God as the one who is able "to accomplish abundantly far more than all we can ask or imagine" (Ephesians 3:20).
It seems to me that to pray fervently is to pray continuously, with the expectation that God will respond. That expectation flows from trust, and that trust flows from a long encounter with the God of love–through worship, through our life walk, through time spent in his company. Prayer flows from friendship with God, and a "close sharing between friends" happens to be exactly the way St. Teresa of Avila describes contemplative prayer (Collected Works of St. Teresa, I, 67).
To pray fervently is to pray toward the loving God and out of a lived sense of God's love. Love binds it all together. In fact, the other place in the Scriptures where the Greek word for "fervently" comes up is 1 Peter 1:22. Peter instructs the church to "love one another deeply from the hearts" (NRSV). Love fervently. Pray fervently. One smudges into the other.
I recently experienced the reality of fervent prayer. Several of us organized an evangelism-equipping event for our regional church association. The language of evangelism is a tough sell for some in our mainline-ish Mennonite conference. So in addition to planning great speakers and impactful worship, we tapped known prayer warriors and had them hold the whole event in prayer.
In the weeks leading up to the event, we were tempted to be disheartened by the low registration. We kept praying, and in the last days of registration, a wave of churches signed up. The event went off with the usual hitches and snags, but a hearty number of people were challenged and equipped to share their faith in Jesus. We rejoiced. It was like watching a matchstick flare, the bright spark of something new. I'm convinced that fervent prayer paved the way.
Are you praying fervently? There's something about fervent prayer that leads to fervent life. Using different words, Paul said it this way: "Do not lag in zeal, be ardent in spirit, serve the Lord" (Romans 12:11).
May it be so.