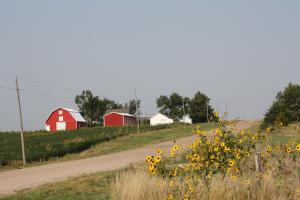 There may be no greater challenge for rural pastors and leaders than measuring ministry.  What metrics do we use?  Budget, facilities, and numbers in the pews seem inadequate in communities whose total population can be smaller than the Sunday gathering of a big suburban congregation.  Besides, while those metrics can get at crucial aspects of the life of the local congregation, they come up short in measuring the breadth, length, depth, and height of the church–a divine-human reality that surpasses and subverts our attempts to pin it down.
And yet, the longing for success by the world's metrics can torque how we see our ministry, driving a sense of futility even as we catch glimpses of the beautiful work God is carrying out.
More often than not,  I think we'll find ourselves standing between Ecclesiastes and the Song of Songs.  
Ecclesiastes is traditionally ascribed to Solomon, writing as a bitter philosopher-king from the iron glare of old age and lost youth.  He's haunted by the futility of his efforts. He writes: "I took a good look at everything I'd done, looked at all the sweat and hard work. But when I looked, I saw nothing but smoke. Smoke and spitting into the wind. There was nothing to any of it. Nothing." (2:11, The Message).  
I can sometimes hear myself in those words.  Does what I'm doing in my rural community count for anything?  Am I able to do and give what my rural congregation most needs, lead it where it most needs to go?  Or are my efforts just smoke and spitting into the wind?  Talking to pastors and leaders in the rural church, I know I'm not alone.
Not long ago, a pastor of a thriving small-town congregation described his early days in rural ministry.  He had invited a denominational consultant to coach him in turning his congregation around.  The consultant took a look around and asked him, "What are you doing here, spinning your wheels?" 
No doubt there are many rural and small town pastors who have wondered the same thing.  Are we just spinning our wheels?
But so too, there are moments of beauty when we struggle for words to give thanks for our rural congregations.  Our church basement flooded the other day.  What was supposed to be a movie night ended up being a wet-vac-the-carpet night.  There we were, hustling buckets of water out the door and moving the quilting circle's masterwork to drier quarters.  In the midst of the buzz, my wife looked over and said, "There's no congregation I would rather do this with."  I agreed.
It's moments like these when rural pastors and leaders find themselves leaning into the Song of Songs.
The Song of Songs is traditionally ascribed to the lusty young Solomon and read as an allegorical love song between God and his people. "I am my beloved's and my beloved is mine; he pastures his flock among the lilies" (6:3).  There are moments when we are walking with Jesus, pasturing the flock among the lilies. Moments where we see through clear to the love of Christ that permeates and upholds all things.
Maybe rural pastors and leaders are a little like Solomon.  We can recognize the limitations and challenges and drawbacks of rural places with honesty.  We can wonder what we're doing here and if it matters, if our work amounts to anything, or if we're just spinning our wheels. We have to face those questions honestly, acknowledge them and give them their due.  But we must also come to recognize that not every questioning voice we hear is of God.  The snake is also hissing in the Lord's vineyard.
Whatever questions may plague us, we have to learn a deep sense of love for people and place, a love that comes upon us not so much as an emotion but as a steadfast orientation.  It's a love that is bigger than our hearts.  Jesus-shaped love.  Cruciform love.
Rural pastors and leaders are always going to be standing between Ecclesiastes and the Song–but maybe a little closer to the Song, our lives tumbling out of a heart filled with something Christlike.
"Set me as a seal upon your heart," says the Song, "as a seal upon your arm; for love is strong as death, passion fierce as the grave. Its flashes are flashes of fire, a raging flame. Many waters cannot quench love, neither can floods drown it. If one offered for love all the wealth of his house, it would be utterly scorned" (8:6-7).
Something like that love has got to be close to the heart of rural ministry.  It's a love as strong as death, a passion fierce as the grave, surrounding, flooding, submerging the church like many unquenchable waters.  Perhaps that love is our metric.
What else?