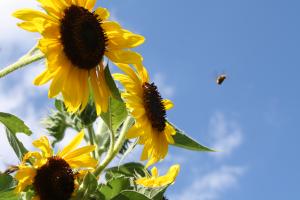 Everybody knows everybody in rural communities.  Or at least, that's the perception many people–including rural people–have.  A study by the Pew Research Center released in May found that while rural residents are indeed more likely to know all of their neighbors (40% of rural people claim to know all or most of their neighbors, compared to 28% suburban and 24% urban), folks who live in rural areas are not necessarily more likely to interact with their neighbors.
Both claims are striking for how the rural church thinks about equipping members for evangelism.  Forty percent of rural folks who know all of their neighbors isn't a particularly high number. In our churches it seems like we could set a higher bar.  Can 50 or 60 or 75% of us aim to know all of our neighbors? And once we know them, can we aim to interact with them?
For the rural church, I think this means that while we need to help our congregations develop skills and know-how for reaching out (how do we actually have a conversation about Jesus?), perhaps the first piece we have to emphasize is the ancient art of neighboring.  Before we can love our neighbors in the abstract, we need to get to know and interact with our real, concrete, next door neighbors. Knock on the door! Take them some flowers or tomatoes or tamales. Get to know them, hear their story, and then when the door opens, share the love of Jesus.
One big challenge, in my experience, of getting to know the neighbors in rural communities is the gap between old and new families.  In a town like the one we live in, the names of the streets are the names of the founding families. The old and sturdy structure of relationships that trails back into pioneer days can sometimes mean that newcomers have a hard time breaking in.  Old families have to make a conscious effort to adopt new families.
Of course, "adoption" is the operative word, no matter where we make our homes.  God has adopted us through Christ (Ephesians 1:5). Now we're sent out to share the gift.
So what do you think, readers?  From your location–rural, urban, suburban, or somewhere in between–does this study and the challenges it poses for the church ring true?  Do you know your neighbors? Have you shared your faith with them?