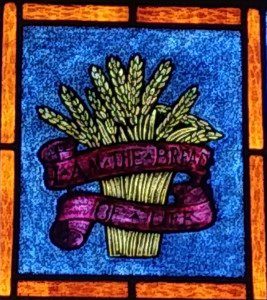 When the Israelites were in the long desert, God gave them manna to eat, the bread of angels that was enough to supply their needs.  Jesus still promises manna to his people (Revelation 2:17)–a promise we especially need when life lingers in desert places.
Jesus gives us what we need.  I believe this. I've seen it, tasted the hidden manna–that sense of receiving sustenance to continue the journey.  The Israelites experienced manna as a miraculous substance, bread from heaven with a taste like honey wafers and coriander seed with the gold white appearance of tree resin (Exodus 16:31; Numbers 11:7).  Writer Brant Pitre speaks of how ancient Jewish writers expected that the coming Messiah would again cause manna to descend to nourish God's people. St. Jerome tied that expectation into the prayers of the church when he translated "daily bread" in the Lord's Prayer as "supersubstantial," a word that in Latin means something like "supernatural" in English (Jesus and the Jewish Roots of the Eucharist, p.27, 95).  Give us this day our supernatural bread.  It's manna from above.  Jerome and others connect that supernatural bread to the Eucharist, a link which strikes me as just right.  That supernatural bread, that daily manna that Jesus the bread-giving Messiah provides, turns up in our lives beyond the Lord's table.
For me, manna can arrive as a word in season, picked up in a book or discovered in the Scriptures.  Manna can be a dream. It can be God laying his direction and comfort on our hearts. It can be someone dropping by at the right time.  Manna is God giving me what I need for my life in this day in ways that only God can know and provide.
I especially need Jesus' manna on Tuesday morning, that spiritual trough when last Sunday's sermon is fading behind me and the sheer heights of next Sunday begin to rise into view.  Tuesdays are for me what Mondays are for everybody else. I almost always find myself banging around with 10,000 things to do and a scratchy question of which thing matters most–or at all.  That's when I need manna.
The Israelites ate manna on their desert journey, and sometimes manna gets me in motion.  It sends me out to do God's will, seek God's face, walk in God's ways. In this way, manna helps me challenge the self-constructed narrative that views the future as a to-do list, one big, brittle necessity rather than a horizon of possibility.  Manna like this is God's word of encouragement. It often comes by way of other people. Once, at a crucial joint in my life, a church elder pulled me aside and told me not to go off and do something else I was considering, but to continue in pastoral ministry.  His words mattered, especially because they arrived at just the right time for me.
Sometimes, manna helps me stay put.  It's the manna of stability, the nourishment I need to be right where I am, right when I'm there.  Often, this manna takes the form of a recognition of the goodness that's in front of me. It's seeing the depth of meaningful work, resisting the temptation to distraction.  This manna calls me to abide, be present, watch. Maybe this is what Queen Esther received from her uncle Mordecai when, in the opening tremors of genocide, he called her out: "Perhaps you have come into royal power for such a time as this" (Esther 4:14).  It's you. Be here. Do what you have been placed her to do.
Manna is never merely a gift God gives.  It's always the gift of God himself.  Jesus shows up in our lives, the living bread that comes down from heaven (John 6:51). In this way, manna is always an encounter with the risen Lord.
Where do you need manna?  Where has God given you everything you need?