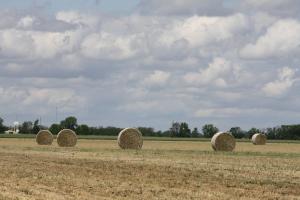 Another day, another East Coast op-ed focusing on rural decline, this one by respected economist Paul Krugman.  Krugman sounds the alarm, writing that "nobody knows how to reverse the heartland's decline."  He cites the usual factors for this supposed rural decline, including the powerful "gravitational pull" of dynamic cities and the reality that agriculture and its attendant industries don't employ as many people as they did in, say, the 1950s.  Thus it's time to "get real," and getting real means, it seems, that we lower our expectations for rural communities. After all, seen globally, large-scale revival efforts have a poor track record.  For instance "the former East Germany is still depressed three decades after the fall of the Berlin Wall."
Krugman's correct in his focus on concrete solutions that promote rural America's livability and economic thriving.  But where he stumbles is in his understanding of what constitutes rural America.  You see, "rural America" isn't a unified reality.  Rural is economically and culturally diverse, just as Washington, D.C. is a very different kind of city from Detroit.  What's true in some parts of rural doesn't hold in others.  Sure, there are rural communities that have been hollowed out by powerful economic forces.  Take the lightly populated Nebraska/Kansas border, many parts of which lost half their population since the 1970s.  Pick a town in that region, and you'll likely find crumbling, abandoned houses and kids riding the bus an hour to get to their consolidated school.
But those communities are outliers.  As writer Sara Smarsh said in a recent talk (May 14, 2019, Hutchinson, KS), as she has traveled around the country connecting with folks in rural communities, she hasn't heard despair.  The prevailing sentiment, says Smarsh, is this: "It ain't all bad."
There are vast swathes of American rural that are doing quite well.  My own Moundridge (pop: 1,800) is exhibit A: we have more jobs than working adults.  This low unemployment rate is based on a strong economic foundation of manufacturing and agriculture.  Our community just passed a $14.6 million school renovation and modernization bond. And Moundridge is not the only area community like this.  Visit Lindsborg or Buhler or Inman or Hesston–all towns along the I-135 corridor–and you'll find safe communities offering affordable housing and great schools.
In fact, safety, affordable housing, and great schools are three of the top four reasons people cite for choosing to live in rural communities (the other is outdoor recreation), according to research conducted by sociologist Benjamin Winchester of the University of Minnesota.  Far from a story of universal decline, Winchester describes what he calls rural "brain gain." In a nifty reversal of the standard narrative, it turns out that in many rural communities, the percentage of residents aged 30-49 has increased.  What seems to be happening is that there's a dip among 20-somethings as young people head to college and graduate school, but then a population bump emerges as those folks marry and return–or others relocate–to rural to raise their families.  These returners and relocators bring with them professional degrees, salaries, and leadership potential.
So too, I think the advantages of cities are often overplayed.  Sure, there's scads of hip food trucks in Krugman's New York.  But the reality is that most people won't earn enough to enjoy the benefits of America's elite–and pricey–cities.  They're just trying to make rent.
Meanwhile, in central Kansas, $180,000 will get you a sweet home in a low crime area with a high speed fiber connection and an apple tree in the backyard.  Your kids can learn in the newly renovated school and take violin lessons at the liberal arts college down the road.   
It's true that government can support rural communities in helpful ways.  Infrastructure investment, programs promoting installation of broadband internet, and spending on rural healthcare bring potent and measurable dividends.  But we would be wrong to think in terms of urban USA bailing out rural USA, something in the mold of West Germany reforming and rescuing the East.
Rural communities don't need to be reformed or rescued.  Rural already has plenty to offer, and people will do what people have always done: choose the best option for their family.  For a lot of folks in their 30s and 40s, that means going rural.