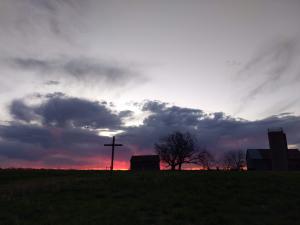 May I never boast of anything except the cross of our Lord Jesus Christ, by which the world has been crucified to me, and I to the world. (Galatians 6:14)
I've heard every sort of boast: goal-counting, honor-roll rocking, money-making boasting.  Why yes, my son did get a purple ribbon for his poblano peppers at the 4-H fair last year.  Thanks for asking. 
But all boasting sounds the same in the end, like old Silas who in Robert Frost's poem "The Death of the Hired Man" boasts of his one accomplishment: that he can stack a load of hay.  His boast gives him his identity, and he clings to that boast because to give it up would be to risk losing his identity–and that's a kind of death.
You see, at some level, boasting is about identity formation.  It's not just–or even–hubris. What we boast about is what we adopt as our identity.  It could be education or income or service or family, but our boasts identify us. We boast, therefore we are.
Boasting forms identity in the apostle Paul's letters.  Some may boast in the law or boast in works of righteousness or boast in their leaders (Romans 2:23, 4:2 1 Corinthians 3:21).  But not Paul. For him, it's all about Christ. Paul writes, "May I never boast of anything except the cross of Christ" (Galatians 6:14).  
True, Paul goes on to boast in his labors on behalf of the people of God or his sufferings for the kingdom (2 Corinthians 7:4; Romans 5:3).  But those are a kind of anti-boast, an inversion of boasting that points back to his life and identity in Christ.
What do you boast in?  What do you attach yourself to that lends you identity?  Independence Day is just behind us, reminding us that for many national identity rises to the top.  People boast about liberty or America's beauty or her military prowess. The nation we were born into becomes our boast.  Nationality lays its claim on us, identifies us. We boast in being American.
As Christians, should we?  It strikes me that the gospel teaches a certain indifference to nationality.  After all, "our citizenship is in heaven" (Philippians 3:20). Thus like Paul, if we're going to boast, it should be in Christ.  Our life, our purpose, our community–they should all find their center in Jesus, beyond national allegiance.
I find myself feeling most American when I'm outside of the US, and I especially feel American when I'm returning to the US.  We land and make our way through the immigration line, and I feel this certain sense of identity. It's a feeling of coming home, of slipping into an identity that's larger than me.  Should I feel that?
My family and I visited the WWI Museum and Memorial in Kansas City over the July 4 holiday.  It was a bracing experience. In the early 20th century, a budding sense of nationalism–something new in the modern world–set the stage for the cascade of hubristic moves that ultimately drug 36 nations into the trenches of a futile war.  What if, somewhere in that week after the assassination of Archduke Franz Ferdinand and his wife in summer of 1914, national leaders would have boasted not in their imagined military might, but in their shared identity in Christ, the Prince of Peace?  How might history have unfolded differently?
It's the Prince of Peace who calls us to an alternative set of allegiances and commitments.  He's the "Lord of all the earth," and we're a "holy nation" that isn't bounded by any one border but is instead a people gathered "from all tribes and peoples and languages"–a people that owes God a reverent obedience transcending our responsibilities to earthly governments (Psalm 97:5; Revelation 7:9; 1 Peter 2:9; Acts 5:29).  That's the New Testament vision: a people called out to become "citizens" of God's holy kingdom and members of the "household of God" (Ephesians 2:19).  
There's a challenge there to nationalistic allegiances that has not gone unnoticed through the ages.  It set the early church at odds with the Roman authorities and continues to aggravate totalizing regimes–witness China's push for "religion with Chinese characteristics," which includes forcing churches to sing patriotic songs and display pictures of Xi Jinping.
Nevertheless, might there be a way in which out of the God-given particularity of human life, in solidarity with a people and a history, Christians can hold an appropriate love of country?  There are nationalistic and militaristic risks to be sure, especially since Christians are called to "love your enemies and pray for those who persecute you" (Matthew 5:44). But maybe there's also the possibility of finding a love of neighbor broad enough to encompasses a nation.
Perhaps that's where an authentic Christian patriotism begins: in love of neighbor.  It strikes me that Christian patriotism that's based in anything less than our identity in Christ will always be at risk of the kind of nationalism that led to WWI.  But patriotism that places Jesus at the center will take a different slant and recognize that love of neighbor can never stop at the border.
During this season of national celebration, where does your identity lie?