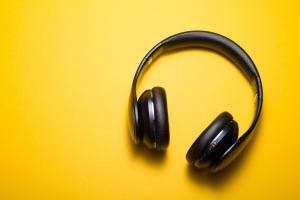 The sun set long before I put the car in gear, backing out of the garage with my daughter fiddling with a CD in the car. Music is part of our journey to swim practice three nights each week.
And yes, we still have CDs. Ancient relics.
Taylor Swift came sweeping through the speakers. The Red album, to be specific. My beloved introvert daughter gently moved side to side, already wearing her swim cap and tightly around her ears.
Music is a part of our family; to the point where it occupies the space of another child in the house. It can be loud or gentle. Songs will run in the background or they burst into the fore and we lend our voices to their melodies.
The 12-minute drive to the pool goes quickly. My daughter skips halfway through certain songs, treating the album more as a buffet than a sit-down meal. This is music in the age of digital delivery – we take the pieces we want and move on when we are satiated.
In the Psalms, the poets talk about "making a joyful noise" and playing songs "with the harp and lyre." These poetic notions come from kings, priests, and liberators. Music in whatever form available sits within the souls and spirits of ancient saints long gone, apparently.
Granted, the distance between the Psalms and Taylor Swift is quite large. Or is it?
The songs of the Psalms are emotional. They capture deeper strains in us than we care to admit. They point out scenes in our journey of formation where we feel something. The song that we process through our cognitive structures via our auditory system connects with the memories of experiences lodged in us via our hippocampus.
These poetic songs, the Psalms, are crafted in exile and struggle. The words of worship are written in times of darkness. The image of the valley of the shadow of death is carefully crafted under that very shadow of death. The Psalms are emotional statements of life with God.
In other words, great music reads us our own stories in someone else's words.
Swim practice ends and we return to the car. My daughter is exhausted, hungry – Please can we go I'm starving.
Back to Mrs. Swift we go: we run through "22" and then to "We Are Never Getting Back Together." We sing together, as loud as we can:
You go talk to your friends…
She has not felt the slice of a break-up yet. Will she bear Taylor's witness differently then? Will she be like me, mourning a teenage breakup with Pearl Jam's "Black" pounding the walls of my room?
I wonder if her faith will expand and grow to the point of tears, much like mine when I heard Rich Mullins' "The Love of God."
I hear pastors and Christian writers decrying emotions as a part of faith. But isn't an emotionless faith simply empty facts on a page – lifeless, irrelevant, and unappealing?
What about the stored memories of disappointment and deliverance, rage and redemption, betrayal and beatitudes? We know what we know of God because of his presence in our emotional strains.
How are we going to learn the way of Jesus if we cannot feel the scenes and stages at their full volume?
I pull the car into the garage. We are now making up our own lyrics, with apologies to Tay-Tay. I go to a jar we keep on our kitchen counter. Every year we write down memories from that year that make us smile, and on New Year's Day we read them out loud.
I make a note about singing with my daughter in the car. I take a moment to smile, folding the note and putting it in the jar.
If we cannot feel deep enough to sing, then what is our faith forming us for anyway?
The God of our doctrinal statements must also be the God of our frustration, disappointment, and all points in between.
If not, what are we being formed for?
Are we not born to live into the image of God, and in doing so let our lives truly sing?
(Photo by Malte Wingen on Unsplash)