This week I had the privilege of working outside on our porch, a chance to notice the chill of the newborn spring swaying around me. It is a wonderful time of year in Chicago, waiting out the winds. The humidity yet to come, the air sprinted into my lungs, effortlessly. It is a strange season, where morning requires a parka and afternoon brings on short sleeves.
I'm not complaining, mind you. But this place is an oddity when it comes to weather.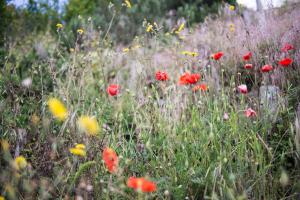 I looked through the screen door; the grass is a fleeting spring green. Dandelions, hated and admired, pop up at regular intervals.
"I need to cut the grass again," I thought. "Already?"
It is a time of noticing. The winter brown has receded, and whether we are "winter people" or not we typically avert our gaze from all the dead things. It is no accident that the church calendar calls mid-January through early March "ordinary time." Other than the treasured birthdays of my wife, mother, and mother-in-law this is a time where we look inside rather than outside. The warm house, the dense foods of hibernation, the time management that comes with early morning snow shoveling: all of it feels so workmanlike, so ordinary.
Of course, every season has miracles of its own. I'm simply partial to the spring miracles. That's all. Then again, no miracle hits home without us first noticing its presence.
Every Miracle Begins With Noticing
Noticing is the practice of being aware of the things around you. If we listen, we notice so many things happening around us. Imperceptible universes often slide under our gaze, without our notice or admiration.
There is something truly holy and helpful about our focusing on the stuff of our reality. While working on the porch I heard two mallards fly by at top speed. Not the first time. But for the first time I heard the stiff squeakof their wings against the breeze.
The God of all creation, the "maker of noses" as Rich Mullins so delightfully sang, gives the squeak to the wings of mallards. What else does he give?
In our noticing, we become aware of God. We also become aware of ourselves. I didn't know that mallards squeak. What else don't I know? Is there more mystery (of course there is)?
Wisdom On Notice
Lately, I've come to believe that the primary fruit of spiritual formation is wisdom. Wisdom is learning from past mistakes, of course. Our memories are wonderful teachers.
Wisdom is also learning from others ahead of us on the path. I love my relationships with those 20+ years ahead of me in age. They shine a flashlight onto the journey that I've yet to take.
There is also great wisdom in our noticing. What we stop and pay attention to can also teach us. We learn from the mallards, from the cold winds and the hot breezes. There is arithmetic in songs and stars, life lessons in art and architecture.
What wisdom is all around you, right now, beneath your notice? If we quieted the noise, silenced the devices, and listened to the world around us, is there something worth seeing?
The mallards landed in the detention area, together. There was no further squeaking. Just the breeze, clipping the screens, bringing songs from the windchimes. I didn't hear them before. My noticing turned to the chimes and their song, at least until my device buzzed reminding me of an appointment in 15 minutes. I had lost track of time, and I would most definitely be late.
So noticing isn't perfect, at least not the way I did it. Yet the God of squeaky mallards and singing chimes, softly whispers: "What do you notice about your calendar snafu? What else might you see, if you simply stopped and paid attention?"
(Photo by Stephanie Krist on Unsplash)
*For more practices for noticing, check out my new book "As I Recall: Discovering the Place of Memories In Our Spiritual Life"