My reading list has been slim as of late, for a variety of reasons. When I trim down the list, I typically gravitate towards my most significant influencers.
When Carol Berry's book about Henri J.M. Nouwen and Vincent Van Gogh came in the mail, it immediately moved to the top of the list.
While I won't claim the title of artist, there is something about artists that has always intrigued me. Something spiritual, actually. Whether visiting the MCA in downtown Chicago or loafing through the Louvre in November 2012, I marvel at the souls in paint and material on display.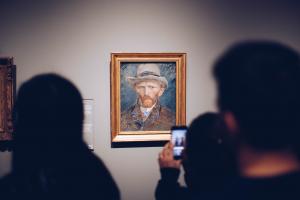 Van Gogh was a troubled figure, to be sure. He was also a deeply spiritual man. Henri J.M. Nouwen, the renowned psychologist and university professor, gave away all the prestige to serve in the L'Arche community in Toronto, Canada. He gave up the accolades for the compassionate way of living with those profoundly disabled beauties among us.
At a time when my faith was flagging, Nouwen's book Life of the Beloved rescued me. Bordering on hyperbole, yes, but I say it again:
I am a Christian still today because of Henri J.M. Nouwen.
Nouwen, who responded to the invitation of Jesus to write and lead showed the way to hope and wholeness.
In Berry's book Learning from Henri Nouwen and Vincent Van Gogh, she details her and her husband's experience as students of Nouwen at Yale. Henri taught a class on the spirituality of Vincent Van Gogh, specifically to those men and women preparing for pastoral or parish ministry.
Many only know Van Gogh as the "guy who cut off his ear." I understand.
However, Nouwen showed the true soul of Van Gogh who once said:
If one feels the need of something great, something infinite, something where one feels one can see God, one need to go far to find it. (67)
The presence of God in a man who saw color, light, and beauty even in the darkest slums and most desperate working conditions. The presence of God in a man whose downward mobility rejected "climbing the ladder" for the least of these.
Reading Berry's book reminds me that there is an entirely other world of values. It is a world that drifts by like the scent of baking bread, yet completely unnoticed. Unnoticed that is unless we shape and form our attentions to notice it.
Call it the kingdom of God. We might call it heaven. A cloud of witnesses, even.
It is a different kingdom, for sure. Writer Wendell Berry calls it a "different economy" and poetically articulates living within this economy as "keeping an inventory of non-commercial goods."
It is a place where risk is received with a different kind of grace. This economy is a place where love is like currency, and at the same time defies commodification or consumption. The world that Nouwen and Van Gogh lived in was that kind of economy. It was as if they knew there was some unwritten game plan woven into the fabric of the universe. Their lives then were desperate audibles pulling our attention to a new way of being in the world.
Today, after a long spring walk with my wife. I opened Twitter. Though I brace myself every time I read Twitter, I didn't properly prepare for what I read there.
Progressive Christian writer Rachel Held Evans passed away on Saturday morning, after an inexplicable medical crisis.
I remembered Rachel as deeply funny and pointed, calling like a prophet to a church (institutional little "c") struggling to find its way in the world. Not everyone agreed with her writing, some angrily and viciously opposed her. Indeed, there are things I don't believe Rachel and I would agree on.
I found her book Searching for Sunday to be enlightening to the experience of those who had left the church (again little "c") because they simply could not find the way of Jesus there.  She wanted to take the Bible seriously, that much was clear from the various interviews I heard with her. I believe she did.
She leaves a family behind who loved her. They have fears and questions. Each one of them will have to enter into the cold, dark, swift moving waters of grief. Swift moving as they are, it will still be a long journey to brighter spaces. We don't grieve like those who have no hope, but we still grieve.
You may say, "Why grieve? Just because Rachel was 'Christian famous?'"
True, I never met Rachel, nor Henri, nor Vincent Van Gogh. I remember feeling sadness when I discovered Nouwen and then discovered he had passed in Fall 1996. Of course I was only a whisper in the eternal ether when Van Gogh died.
I've never met Carol Berry either, though she is alive and well I hope to talk with her someday.
What I know is that to disagree, to study, and to receive the gifts of the "great cloud" of Jesus-followers before us is to grow in our wisdom. They all had their struggles, faults, and foibles. Each wrestled with mental and emotional demons, anger, overwork, and the various human dings and dents that I bear even as I write this.
While we mourn Rachel's sudden and tragic passing, there may be some who take this moment to try and make some sort of protestation against her theology. These are the moments when I cringe, when I feel embarrassed to be part of an overarching Christian culture that should come to bring hope.
However, more often than not we bring condemnation to grief.
Apparently we have an insatiable desire to "win," and our "opponent" is at their weakest at a time of grieving. Rachel risked, she bore her vulnerability with grace, and challenged all of us to think well about the way of Jesus. She leaves a space, a gap.
I believe to listen to Van Gogh, Nouwen, and Rachel Held Evans is to know that there is a large choir of voices singing wisdom to life. Each received Jesus in their own world, work, and will and then went to play in the fields of faith. We learn a lot from their games, their suffering, and their epiphanies.
We would be good to let go of the desire to divinize certainty in the process. Although we fear  not having all the answers, what we see in these three "voices" (as well as others) is that the way of spiritual formation with Jesus often takes on different contours. Differing means.
I closed Twitter and looked across the room at the book on the fireplace. Nouwen and Van Gogh, in conversation with each other. I thought about Rachel, one who read and writes just like I do. Just like Nouwen did.
It occurs to me that we are all part of that great cloud of witnesses. We are the influencers of those around us and those yet to come.
So let us grieve, read, weep, pray and hope. The Jesus of artists, priests, and prophets continues to weave a wonderful tale. You and I – we have a part to play. We are the next influencers.
(Photo by Ståle Grut on Unsplash)