March 2019 marked a year since my family and I returned to the south suburbs of Chicago. We returned to friends, grocery stores, and famously damaged roads that we knew as well as each others' voices.
The journey of return, necessarily, began with a departure. After nearly 8 years in Tinley Park, IL we moved to Rockford, IL in the fall of 2016. I felt it was time to pause a new position at a church, serving with a friend, and so we chose to leave the familiar for the unknown.
As I mention in my recent book, we learned a great deal about our identity in the year and four months in Rockford. We came to understand our own souls in a way that would never happened had we not moved into a place we didn't know. All that I knew about what God had in mind for my work and life took on new energy and direction.
Yet the biggest learning from our journey "up and back" (geographically speaking) was our need for friends.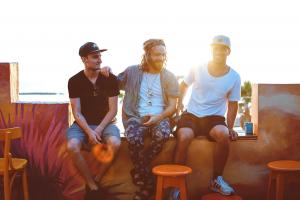 We came back to networks of friends with whom we had spent easy, intentional time. They knew us and we knew them. We could live and talk without guarding ourselves against perception and presumption. These were people who could tell us the topography of our souls with little discrepancy.
The interesting thought that came to me was that our spiritual health is deeply connected to the quality of our friendships.
Recent research shows that we are struggling to make friendships these days. The busyness of life, the stress of work, etc. serve as strong boundaries to making friendships. Plus we have so many virtual friends, commitments of time and family, and the presence of overstimulation causes us to seek out lonely spaces more often than public spaces.
Vulnerability is a state that we already avoid, but now even more so in a climate where one weak word online can lead to a deep and decisive character blow.
And yet, there is something deeply beautiful about a close friend. Walk into any coffee shop or restaurant and look for the people who are leaning in, listening to each other intently. Find the two men in their 60's having breakfast on a weekday, the morning paper folded in between them and bemused looks on both of their faces. They have a long-running joke, so it seems.
In my mind, there is also something sacramental about friendships. I'm not ready to create official doctrine about this, but there are times with a close friend where it feels as if you've entered into a tremendous mystery. There is a person who has watched you fail, listened to your confessions, and supported you when no one else would.
Despite all of this, they are still part of your life. They think well of you and enjoy time with you. Still.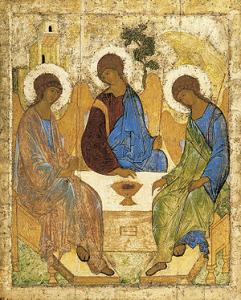 There is a beautiful icon of the Trinity painted by the artist Andre Rublev. I have a small replica of this icon hanging to the right of me now as I write. The persons of God – Father, Son, and Holy Spirit – sit around a small table. Each person has color and shade that gives them personality. While the icon itself is quite beautiful, what is more beautiful is the presence of a gap.
The side of the table closest to the viewer is left open, vacant; there is space at the table with God.
A friendship can operate much in the same way. With a true friend, someone with whom we share a bond of life, we make space for them to encounter more.
They encounter more of our deepness, our broadness, our darkness. In that encounter they are confronted with their own depths as well.
A holy way of friendship honors the fact that we are simultaneously sinner and saint. And yet there is a space made for us in the world.
Like any good sacrament, we are brought to the crossroads of God, self, and others in a friendship. We are able to find the gritty way of loving God with everything and our neighbor as ourselves (Matt. 22:38-40). In fact, a friendship is a beautiful context for learning how to keep the many and varied commands of Jesus about generosity, forgiveness, and compassion.
As this weekend closes, give some thought to your friendships. Who is in your life now that presents an opportunity for deep, significant relationship beyond your spouse or partner? How are you pursuing a sort of sacramental vulnerability with that person?
It is important to note that vulnerability takes time: time to build trust, establish story, and it can't be forced.
For you who read this and find yourself without someone you'd call a close friend: I understand. May your prayer (and our prayer) be for God to help alleviate our loneliness with His presence. As we draw to the table with Him, may the journey lead us to find friends along the way.
(Photo by Toa Heftiba on Unsplash)