What we do with our pain is in fact one of the most significant things about us.
In 20 years as a pastor of various flavors and responsibilities, my most fruitful conversations with people came from times of pain.
When a diagnosis came back, either far worse or a bit beneath what we had expected.

The moment when a relationship turned sour; more of a hairpin turn than a gentle bend.

"God is still God," they say, "but I can't see him (or it) any more the way I used to."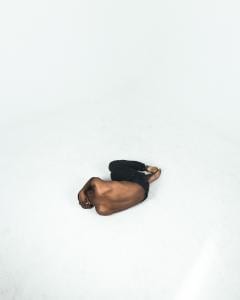 Pain is one of the more bittersweet tools of our passive growth and formation. Though calling pain "passive" sounds wildly naïve, much of our pain happens "to us" rather than "by us" in our own action.
When we hurt, life as we know it is suppressed and declines. But the ache also becomes our teacher.
Even in discussions of the spiritual disciplines, talk about the disciplines of abstinence (not sexual, but simply refraining) happens often. Abstaining is, in a sense, a way of facilitating pain.
We abstain from eating when we fast, facilitating the pain of hunger. Then we let the hunger teach us about what we truly need. We are more content when we train ourselves via the pain of hunger. I don't mean this to become a new legalism, but simply to say our habits and disciplines are preparing us for a very simple reality.
"In this world you will have trouble, but take heart I have overcome the world," Jesus said.
Jesus did not say this to send pain in our direction. He was simply pointing out the obvious: if we are human, pain is part of the deal.
Our formation journey then is to move through pain knowing it is temporary and liminal, but at the same time engaging the sacred within the sting.
Last week I was in the car, headed to a conference at a nearby university. As always happens, the repetitive motion and the long flat landscapes of Illinois put my brain in auto-pilot. Neuroscience tells us that when we are occupied with a task built on repetitive motions (brushing our teeth, showering, and apparently driving) the creative/ideating side of our brain is free to roam.
That's why I have a pad of post-it notes and a pen right outside the shower.
As I made my way along the straight-edge freeway, my mind floated to an image. The image represented how we typically handle pain.
For many of us, pain becomes a window.
The windows surrounding our back porch still bear the grime of spring and summer rains. You can't get a "clean" look at our patch of day-lilies, but when you slide the window back your viewpoint changes.
The window shapes and colors everything we see. When pain serves as our window to the world, we are limited by the ache. Seeing hope, strength, possibility, and even God becomes incredibly difficult through pain-stained glass.
We struggle to trust in relationships, because every new person looks like an old adversary.
Our choices for health and wellness bounce off of the pane, screaming "What difference does it make?" as it made no difference to our loved one who is gone.
Why bother engaging in spiritual practices when I can't see God beyond his apparent absence?
Pain as a window is only self-referential. It is a circle, a cycle, and an inescapable one at that. It is an agent of deformationat that point. We have no participation with it, but we are subject to it.
Many of us know someone for whom pain has become a window. The life they live appears to be a thin sketch of a life, a chalk drawing even.
Of course, there are seasons for pain as a window. When we are grieving, disappointed, and lost there are natural emotions of sadness and regret that color our world.
But a season cannot last forever. Seasons change.
Instead, I believe it is more helpful to see pain as a mirror.
While this might seem like a hyper-individualized take, I honestly don't know another way to deal with pain. The life of formation always begins with the self, even the self in community, as the genesis point.
When it comes to pain, we need to turn from the cycle of pain as the only reality. The mirror as an image draws us back to the primary staging area of God's work: the Spirit alive in us, teaching and reminding us of reality (John 14:17, 26).
Pain as a mirror reminds us that even when things are dark and despondent, we are still in the process of becoming. When we are able to talk about pain as our teacher, we move towards the disempowerment of pain.
In other words, as long as pain operates as our glasses we are helpless to see anything beyond what pain tells us.
When we see pain as a mirror, we turn to the sacred underneath the sting. The power of pain then becomes the potential of pain, and in that moment Jesus' "overcoming the world" disarms our pain. We see ourselves, others, and even the Divine as instructors building up our character and hope (Romans 5) even in the course of despondent times.
So how are we managing our way through pain today?
I encourage you to interrogate your pain today. Is your pain, regardless of its source, a window through which you see the world?
If so, consider asking your pain a few questions:
What do you have to teach me?

If God has indeed overcome the world through Jesus, what then is the sacred beneath the sting?
While I realize this request seems egregious if you're in the midst of something painful, I have had enough follow up conversations to know that pain can be a beautiful professor. Though we may ache, fall, and curse the universe, the Divine only has one directive:
Inhabit the world, incarnate into the place of pain, and lead us out of it from the inside.
(Photo by mwangi gatheca on Unsplash)