Students and alumni of Liberty University, here is your president: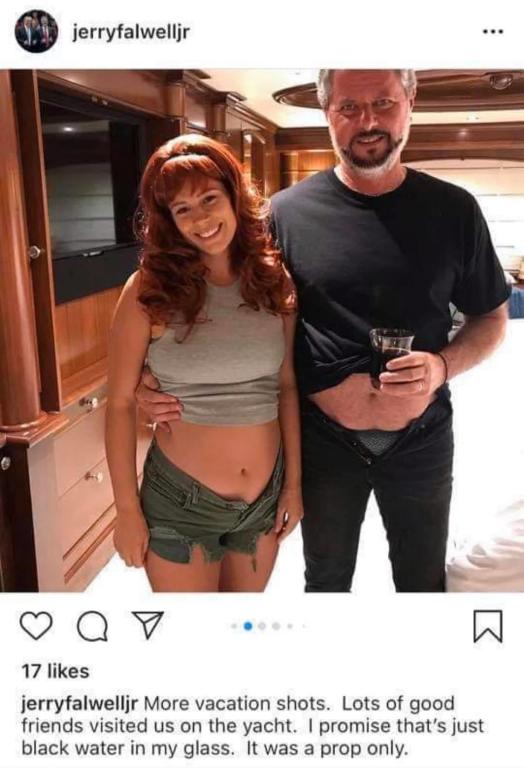 Yet again, Jerry Falwell Jr. makes a mockery of the morality his school claims to support.
His comment of "black water" mocks the hundreds of thousands of Liberty supporters who oppose drinking alcohol.
About the photo? Should any 58 year-old pose this way?
Here's a link to his explanation of the photo.
He claims he went on vacation on a yacht in pants that didn't fit so he posed with his arm around his wife's assistant, their pants unbuttoned. The alcohol and the outfits in the photo are both violations of Liberty University's code of conduct.
Students of the largest Christian university in the United States are held to higher standards than the university president.
Perhaps LU students recognize Falwell's views in George Orwell's Animal Farm when the pigs took over and declared the rules applied to others, but not to them.
Amid previous allegations of impropriety, morally questionable dealings with Donald Trump's fixer lawyer, Michael Cohen, over photos of Falwell's wife Rebecca, a Falwell family business venture with a 21 year-old pool boy, and Falwell's support of Trump, one of the most morally bankrupt people in the United States, Falwell maintains that he's a businessman and not a religious or moral leader.
And still, LU students wait for the next public embarrassment from their businessman president.
Perhaps it's time the Christian university name a president who is a Christian leader and not a businessman. Because their current businessmen president literally can't keep his pants on.
* * * * * * * *
EDIT:
On July 7, about 24 hours after I wrote this, Liberty announced that "the Liberty University Board of Trustees and Jerry mutually agreed that it would be good for him to take an indefinite leave of absence."
I expect public repentance within a week or two. He'll probably come 'under care' of Christian men who'll serve as spiritual advisors during this difficult time.