"Orpheus, the famed oracle orator hero of Greece, began to teach a new religion at the dawn of the Archaic Age. Deeply rooted in ancient paganism, Orphism taught a doctrine of peace-seeking, reincarnation, and universal brotherhood. The followers, like their leader, worshiped their gods with song. Eighty seven of these ancient hymns have survived to the present day, and are called The Orphic Hymns. … "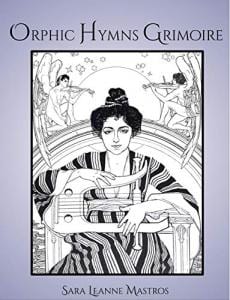 Orphic Hymns Grimoire by Sara L Mastros is the fourth well-known mass market translation into English of the Orphic Hymns. The others are The Orphic Hymns by Thomas Taylor, The Orphic Hymns by Apostolos N Athanassakis and Benjamin M Wolkow, and The Orphic Hymns: A New Translation for the Occult Practitioner by Patrick Dunn.
Translation is an art rather than a science. Each language comes out of a rich culture with unique traditions. It's not just the words which are being translated, but the meanings behind those words, the emotions they elicit, and abstract concepts. Translation is particularly challenging when we're dealing with spiritual writings to be used for devotion or in a practical magical sense.
I would encourage those who would wish to incorporate the Orphic Hymns into their rituals to peruse all four translations to see which version resonates best with them.
Orphic Hymns Grimoire
Ms Mastros has done her best to capture the feel of the original Greek text, but has on a few occasions diverged from the meaning of the original text to make it more in keeping with contemporary values. These instances are identified, and Ms Mastros advises those not happy with her divergences to amend those particular lines to their own taste. Effectively, she's recommending occasional personalizing.
Many of the Orphic Hymns come with detailed commentaries, some of which include spell suggestions. Background information and augmented understanding, in my opinion, help facilitate a more powerful experience.
Ms Mastros recommends a fascinating practice where an "ikon" – one of the line drawings for each of the deities in her book (but I imagine a black and white photocopy of a representation you resonate with would also work) – of a deity for whom you have selected an Orphic Hymn is colored in, leaving the eyes till last, as this will "bring it to life." This is very reminiscent of the B.O.T.A. Tarot Deck (Builders of the Adytum), where each card comes as a line drawing with coloring instructions. Coloring infuses each card with your energy, and also bestows an intimate familiarity with every portion of the card, both of which are powerful aids for using the cards in meditative processes. I imagine that coloring an "ikon" while chanting the associated Orphic Hymn would make for a powerful experience.
Bear in mind that the original images of the Greek deities were very colorful, and this includes their statues. As the Smithsonian Magazine pointed out in July 2008:
"To us, classical antiquity means white marble. Not so to the Greeks, who thought of their gods in living color and portrayed them that way too. The temples that housed them were in color, also, like mighty stage sets. Time and weather have stripped most of the hues away."
Ms Mastros explores the techniques of traditional Greek Orthodox iconography to show how they can be used in painting her "ikons" in Appendix One. This is perfect for those readers who feel that using coloring pencils is not sufficiently challenging.
I was intrigued by Ms Mastros' recommendation turning all of the Orphic Hymns into an all-night vigil. I have only ever recited one or more hymns at a ritual, as I'd be focusing on one deity, or perhaps a small number. I am in agreement with her recommendation of avoiding alcohol and chemical intoxicants, so as to not distort experiences. While not everyone would benefit from prolonged chanting of the Orphic Hymns while in an altered state of consciousness, I'm sure there are a few who would.
Overall, Ms Mastros outlines multiple options for working with the Orphic Hymns with differing degrees of immersion. Any ritual with Greek elements would benefit from including the Orphic Hymns. Her approach to the Orphic Hymns definitely brings something fresh and new to the table, from which even seasoned practitioners could benefit.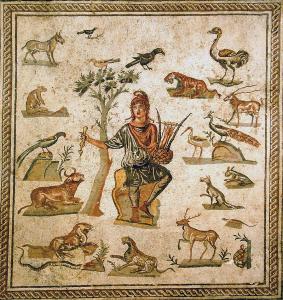 Orpheus surrounded by animals. Ancient Roman floor mosaic, from Palermo, now in the Museo archeologico regionale di Palermo.
Sara L Mastros
Regarding her academic background, Ms Mastros has undergradute degrees in mathematics, philosophy, and the history and philosophy of science, as well as a Masters degree in theoretical mathematics with a specialty in analytic topology (fancy geometry), all from the University of Pittsburgh. She actually taught mathematics and philosophical logic for a time at the University of Pittsburgh, before leaving to teach high school for about a decade, which she left about four years ago to become a full time witch. She now describes herself as a witch for hire, and offers custom spells, divination and classes. Her skill in ancient Greek is self-taught.
Here's a contact point for Ms Mastros.
Here's a collection of spells penned by Ms Mastros.
The primary reference text for this article is:
Orphic Hymns Grimoire by Sara L Mastros
Tony Mierzwicki
Author of Hellenismos: Practicing Greek Polytheism Today and Graeco-Egyptian Magick: Everyday Empowerment.
https://www.amazon.com/gp/product/1905713037/ref=dbs_a_def_rwt_bibl_vppi_i1