On June 2nd, 2022, I saw my first Los Angeles Dodgers game at the world's largest stadium, Dodger Stadium, where they played against the New York Mets. This was actually the first time I had seen any Major League Baseball (MLB) game in person.
I have to confess that as a foreigner I had seen television footage of baseball games but had never understood their importance. I was puzzled by the devotion of the fans.
I was taken to the game by my Dodger fan friends, Susan, Amber and Matt. As part of my preparation, I had managed to score a Dodgers t-shirt at a thrift store a couple of days earlier. Upon entry, we were all given a Los Angeles Dodgers Justin Turner White Home Player Name Jersey (#10) – they all had what looked like a grey stain over the name so you could tell they weren't the high-priced much-coveted replica jerseys. Naturally I wore this as a vest over my t-shirt.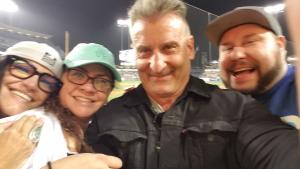 Susan, Amber, yours truly, Matt
Security had advised me to not bring my camera into the stadium, so I was limited to shooting through my antiquated cellphone. Dodger stadium's policy on cameras is:
"Still and video cameras are permitted in Dodger Stadium for personal use only. Taking photos or videotaping any game action is prohibited. Fans may not block aisles or obstruct the view of others. Professional photographic tools (such as tripods, telephoto lenses, etc.) are not permitted in the stadium. Lenses cannot exceed 6″ in length."
There seems to be a bit of wiggle room here for those here with prosumer cameras, which are better than entry level, but not quite as good as professional ones. You would need to turn up early to allow time for debating and returning your camera to your car if you were unsuccessful in pleading your case.
When Matt finally believed that this was my first ever professional baseball game, he developed a twinkle in his eye and vowed to give me the full experience! He was indeed true to his word.
Of course, I had to have a hotdog. After all, what could be more American than eating a hotdog at a baseball game? And yes, they do have plant-based hotdogs for a dollar more than the meat ones! As a vegetarian, I did not miss out.
According to Wikipedia:
"Dodger Stadium is a baseball stadium in the Elysian Park neighborhood of Los Angeles, California. It is the home stadium of Major League Baseball's Los Angeles Dodgers. Opened in 1962, it was constructed in less than three years at a cost of US$23 million (US$206 million in 2020 dollars). It is the oldest ballpark in MLB west of the Mississippi River, and third-oldest overall, after Fenway Park in Boston (1912) and Wrigley Field in Chicago (1914), and is the largest baseball stadium in the world by seat capacity."
Matt walked us to the very top of the stadium to see the view from the "nosebleed seats". The stadium was absolutely huge. Below us was a sea of people, with the ones at the bottom appearing to be little bigger than ants. The large screens were a must to appreciate the action. The attraction of these seats was their very reasonable cost and the bird's eye view of the entire stadium.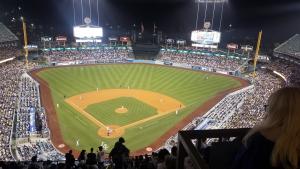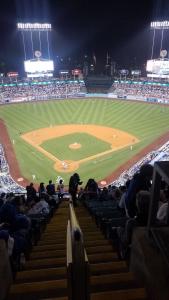 View from the "nosebleed seats"
The energy I perceived was totally amazing! I can only imagine how much more intense it would have been if they had all 56,000 seats filled. The "Let's Go Dodgers" chant unified fans as did the cheering. It was very much a family-friendly event, with lots of children in attendance with their parents. While there was a significant police presence, they were not needed. The crowd was very well behaved, despite copious alcohol consumption.
At the risk of incurring the wrath of hardcore Dodger fans. I found the organ music, shall we say, interesting, as it gave me a sense of déjà vu. It reminded me of a cinema a few minutes' walk away from home in the southern suburbs of Sydney, that proudly proclaimed their matinee screenings would include a cheesy performance from their "Mighty Wurlitzer Organ." YouTube has the old version of the "Let's Go Dodgers" theme played through the Dodger Stadium organ for those who have not heard it.
"Let's Go Dodgers" theme played through the Dodger Stadium organ
Halfway down the stadium, the view was better, but I still found myself looking at the screens a lot. Everywhere I turned, most people had at least one item of Dodgers clothing, apart from the jersey issued to us on entry.
Finally, at field level, the view from our seats was breathtaking – thanks Matt! There was no need to look at the screens as we were so close to the players. The crowd here was far more restrained, with most of the rowdiness taking place behind and above us.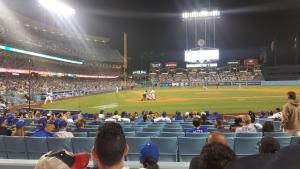 Field level view
It finally dawned on me that the strong sense of camaraderie and unity in the high energy environment of the stadium gave fans a sense of purpose and bonding. For the duration of the game, it was as if a magic spell had united fans into a family of sorts. I would recommend the experience of attending a game to everyone, even those who are not sports fans, as the energy built up is epic and very tangible. Thanks again, to Susan, Amber and Matt for enabling me to better understand the quintessentially American culture of baseball.
Tony Mierzwicki
Author of Hellenismos: Practicing Greek Polytheism Today and Graeco-Egyptian Magick: Everyday Empowerment.