Another Christmas season is coming to a close. I always try to hang on as long as possible. I convince my husband to leave the tree up til New Years. We keep repeating the Christmas playlist. We turn on the lights each night. I love the magic of the season, and I don't want it to fade away just yet. But as that day approaches when the stockings will no longer be hung by the fireplace, I'm left wondering what I can take with me. Beyond the décor and festivities, what remains of Christmas?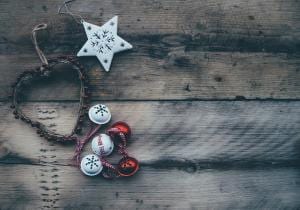 I wonder what it was like for those who experienced the first Christmas. Once the star had faded and the excitement of a new baby king had worn off, once life returned to normal, were they changed?
I think about the shepherds, these anonymous men who were considered worthy to be Jesus' first visitors. In one instant, they were living their normal, inconspicuous lives, tending their sheep, doing the same thing they did every day. In the next, they were pulled out of their ordinary existence and into an extraordinary event in history. A Savior had been born, and they were the first to hear about it.
As they left their sheep behind and ran to find the baby king, did they recognize the significance of this moment? As they stood in the presence of the infant wrapped in cloths and lying in a manger, did they understand that he was here to rescue them? As they shared the news with all who were willing to listen, did they imagine the impact that this new life would have on the world?
We're left to wonder if this incredible experience faded into a distant memory or if they waited each day for this Savior to begin his rescue. We don't know if they were baptized by John as he prepared the way for the Lord. We don't know if they were among the crowds that gathered around Jesus as he taught and healed and fed the hungry. We don't know if they accepted Jesus' invitation and gave their lives to follow him.
Maybe they were a lot like us. So often we just move from one moment to the next without stopping to reflect. As we pack up our lights and nativity sets, we ready ourselves to move onto to the next holiday, the next season, the next year. We turn from the sentiments of peace and goodwill to our personal ambitions and expectations for the year ahead.
But Christmas is not something that's meant to be packed away in a box, only to see the light of day next year. Christmas is supposed to remind us of a God who entered into our world because he wants to be present with us in the mess. It reminds us of a Savior who came to rescue us with his self-giving love. It reminds us of the birth of a new kingdom, a new way of living in this broken world. The birth of that Savior that we celebrate at Christmas is supposed to leave us changed.
I think we can learn a lesson from Mary, the mother of Jesus. Amidst the conversation with an angel, the prophecies spoken over her child, and the visitors who came to worship her son, she didn't let any of it pass her by.
Mary treasured up all these things and pondered them in her heart. – Luke 2:19
It's not so much the amazing events and the celebrations that leave us changed. It's when we allow those experiences to seep into our hearts. It's when we take the time to preserve those memories and to contemplate their significance that we are transformed. And isn't that what God desires for us – not that we would simply worship and celebrate, but that we would be made anew?
Whether or not you've already moved on, don't let this Christmas season pass away without stopping to reflect on what you want to take with you. What does the birth of a Savior really mean to you and what does it ask of you?