What do I mean by reading the Bible intertextually? And what is intertextuality?
The term refers to our detecting words in a given text that can be found in another text (broadly speaking). In the Bible we see this happening all the time whenever a New Testament author references or alludes to a person, place, or thing from the Old Testament. And of course, this also happens whenever New Testament authors quote something from the Old Testament.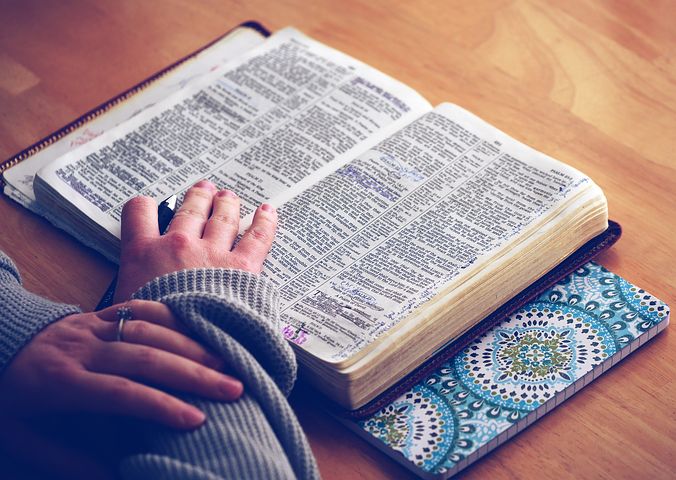 A famous example of this is when Jesus made his famous cry on the cross, "My God, my God, why have you have forsaken me?" (Matthew 27:46; Mark 15:34). To a person who is not well informed, this cry sounds like an expression of disappointment with God. But to the person who is sensitive to intertextuality, and knows Scripture well, Jesus is quoting the beginning of Psalm 22. That Psalm speaks of a righteous sufferer whose opponents deride him and gamble over his garments; things that were happening right there and then.
Moreover, the Psalm continues more optimistically. It speaks of all the ends of the earth returning to the Lord and nations worshipping before him. All this is missed by those who do not detect Psalm 22 behind Jesus's words!
Five Reasons to Read the Bible Intertextually
To be sure, a mindset of intertextuality not only draws our attention to passages in which the New Testament quotes the Old, but more than this, it is also a great way of studying Scripture for the following reasons:
1. It encourages us to read to Bible carefully. We read with a new set of eyes, intentionally looking for and hunting down thoughts, words, and phrases we recall reading from other parts of Scripture.
2. It encourages us to look not only for marked quotations from the Old Testament, but also unmarked quotations and allusions. For example, read Romans 11:1-4. How many quotes are there from the Old Testament? Two? Wrong! Not only does Paul quote from the Elijah story in 1 Kings 19 twice. But the phrase, "God has not rejected his people" actually comes from Psalm 94:14 or 1 Samuel 12:22 or both. (There are minor differences in the wording, though. We can thus speculate whether this is an unmarked quote or an allusion.) Oh, what we miss by not exploring texts carefully!
3. It encourages us to read the context of the text quoted or echoed. If we find a references to the Old Testament in the New, we may gain new insights by reading the context of the Old Testament passage, and then re-reading the New Testament text that references it. Recall Psalm 22: not only are the words Jesus quotes important, but the entire Psalm is important for understanding the significance of the scene on the cross. Likewise, if you read the context of 1 Sam 12 (referenced in Rom 11:2), do you think it was merely a coincidence that Paul happens to bring up his Israelite heritage here as coming from the tribe of Benjamin, the same tribe as King Saul in the Samuel narrative?
4. It encourages us to see how the NT author is using the same words from the OT in a different context. This is known as recontextualization. Notice how Jesus talks about the new covenant in Luke 22:20. The phrase alludes to Jeremiah 31:31-34 where the prophet proclaims that God will establish a new covenant with his people, unlike the covenant God established with them at Sinai (Moses's covenant). The new covenant will be written in human hearts and their sins will be forgiven, among other things. Now notice that Jesus speaks of the new covenant at the Lord's Supper in reference to his blood.  In other words, his death on the cross will bring about the kind of forgiveness God declares will characterize the new covenant. Jesus's sharing of bread and drink the night he was betrayed establishes the new covenant anticipated in the prophetic word.
5. It encourages us to ponder on what might be some of the main ideas of the NT book that references the OT. Scripture is cited and echoed for a reason. Think about the quotation of Habakkuk 2:4 in Romans 1:17, Galatians 2:16, and Hebrews 10:38. All three verses speak of the righteous person living by faith. And it so happens that the entire theme in Romans has to do with righteousness, not to mention faith. In Galatians, Paul uses justification by faith to counter opponents who teach "works of the law." And the author of Hebrews stresses the importance of faith against falling away. This author also presents the "hall of faith" of biblical heroes who exemplified faith (Heb 11).
Reading the Bible intertextually, then, helps us to become better interpreters of the Bible.
How Do I Start Reading the Bible Intertextually?
What, then, must I do to be a good intertextual reader? Here are some tips:
Read the Bible cover to cover. You cannot know thoroughly what you never have read. The more familiar you are with the Bible, the more you will recognize when one biblical text refers to another biblical text.
Memorize Scripture. Start with verses that you love, preferably in the Old Testament, so that you can recollect them if hearing them in the New. And you can also memorize easy verses in the New Testament: for example, "Jesus wept" (John 11:35).
Use a good study Bible that lists a number of cross references. The New Oxford Annotated Bible and ESV Study Bible are two I could recommend off the top of my head. Topical reference handbooks and the New Treasury of Scripture Knowledge may also be helpful.

Invest in a good commentary set. The New Interpreter's Bible Commentary (Abingdon) is a good starter set.
Invest in a good Bible software program. Logos Bible Software is a great program, and with good discounts or perks for college students and ministers.
For more advanced Bible readers, I recommend G. K. Beale and D. A. Carson's Commentary on the New Testament Use of the Old Testament. I hear a second edition will be out soon.
For really advanced Bible readers, I recommend three of my own books: Exploring Intertextuality (Cascade Books, with Steve Moyise), New Studies in Textual Interplay (T. & T. Clark, with Craig Evans & Paul Sloan), and hot off the press, Practicing Intertextuality (Cascade Books, with Max Lee).
In order to do biblical intertextuality well, it is essential that you first know how to interpret the Bible. For that, you can see my Patheos article, "Three Ways to become a Bible Interpreter." I also recommend Gordon Fee's How to Read the Bible for All Its Worth (Zondervan).
Most importantly, just open up the Bible and starting reading!
---
Image: Book Bible Study Open via pixabay.com