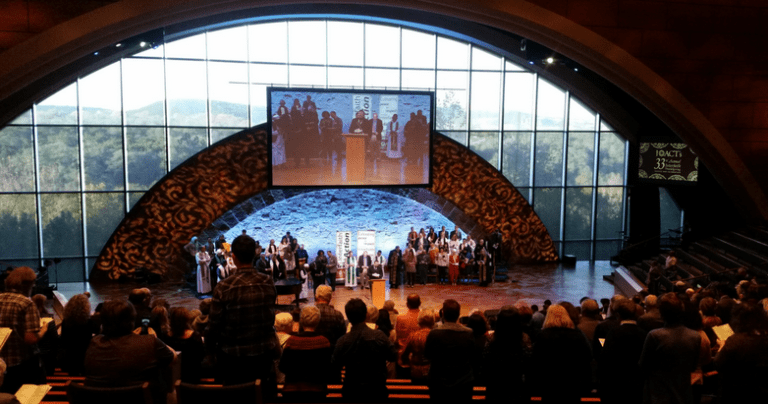 What do you call it when hundreds of people from a variety of different religions come together with dozens of diverse religious leaders to celebrate harmony?
Words that spring to mind are "hopeful, beautiful, and inspiring," or "an event that flies in the face of feelings of division and acrimony," but Austinites call it the annual interfaith thanksgiving service and celebration. On Sunday, November 19, I was lucky enough to attend with my family.
A Celebration of Harmony
The event was hosted by the Austin Muslim society at Riverbend Church.
Take a moment to think about that.
A Christian church, which did not have to say yes to the request, graciously opened its doors to the Muslim community, which did not have a facility that was big enough to accommodate all those who were interested in participating.
The two-hour service—which was filled with songs and prayers for peace and harmony—included religious leaders from Islam, Judaism, a variety of Christian denominations, Hinduism, Sikhism, Bahaism, and Buddhism, and was followed by a cultural festival showcasing food and music from a variety of predominantly Muslim countries.
My Children Loved It
To my surprise—mostly because they had to be cajoled into attending with me—my nine-year old daughter and fifteen-year old son both enjoyed the event immensely.
My son remarked that interactions he observed between the different faiths looked nothing like what he had seen portrayed on television.
Again, think about that.
The simple act of exposing my children to pleasant interactions between faiths will have a lasting effect.
If more children were exposed to adults with different ideologies behaving cordially, well, we might find peace in our times.
Resonant Messages
Every single prayer that was uttered during the service was for peace and harmony. Here are several examples.
The Baha'i community reminded us to:
Be worthy of the trust of thy neighbor, and look upon him with a bright and friendly face.
The mayor of Austin, Steven Adler, delivered a prayer for God's people and said:
We thank you for the mixture of cultures, blending us into one people under God.
In a litany for love and justice, Muslims, Christian and Jewish leaders encouraged us to:
Reach out, speak out, and act out of love for our sisters and brothers.
Reminding us that:
We are all familiar and foreign in our journey upon this earth. To welcome the stranger is to welcome ourselves and to make every place a haven and a home. There is room for everyone in the embrace of human kindness.
Steadfastly adding that:
Silence in the face of evil is itself evil: God will not hold us guiltless. Not to speak is to speak. Not to act is to act. We will not be silent. We will not be still.
In a second litany, this one for the victims of Sutherlands Springs in Texas, a second group of diverse speakers prayed solemnly:
We see these victims—men, women and children, whose last breaths were sung in Your holy name. Let our tears flow today.
And added:
Let us not accept mass shootings as the new normal in our land. May we be unafraid to live our lives—to attend music festivals, to ride our bikes, to go to the movies, communities, and schools—to love, to laugh, to worship, and to sing.
In closing, Imam Asim Shareef prayed for the gathering:
Bless our earnest will to help all races and peoples to travel, in friendship with us, along the road to justice, liberty and lasting peace.
Giving Thanks
I am relatively new to the USA. This year will be my ninth time celebrating Thanksgiving in my adopted country. It has truly become one of my favorite holidays.
In the spirit of what I have come to cherish, allow me to give thanks.
I am sincerely thankful to executive director Simone Talma Flowers and Interfaith Action for Central Texas for the work that they do.
I am thankful to every religious leader, layperson, and volunteer who took part in the service.
I am thankful to those who shared their culture by preparing food for hundreds of people they did not know.
I am thankful to all the singers and musicians who created beautiful vibrations of harmony.
I am thankful for having experienced the exact opposite of what has been the dominant national rhetoric this year and for having been able to share that experience with my family.

I am thankful to all those who gathered for the cause love and peace.
I look forward to participating in many more of these events in the future.
May you have a blessed Thanksgiving.
Gudjon Bergmann
Author & Interfaith Minister
Visit iACT for more information about the wonderful work that they do.
Picture: Johanna Boel Bergmann