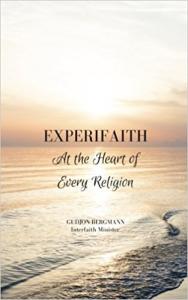 Experifaith: At the Heart of Every Religion; An Experiential Approach to Individual Spirituality and Improved Interfaith Relations
by Gudjon Bergmann (May 29, 2017)
This little book is for everyone who is interested in faith-based experiences, the exploration of individual spirituality, and is looking for a new approach to interfaith communications. The Experifaith model unveils an invisible string that ties the pearl necklace of human spirituality together. Here is how it came into being. After a lifetime of exploring firsthand spiritual practices, author Gudjon Bergmann decided to try a different approach in his quest to understand religion and spirituality. He entered All Faiths Seminary to become an Interfaith Minister. There, after months of study, reflection, and contemplation, an interfaith framework unveiled itself to him—a model that placed experience at the heart of every religion and solved a persistent East-West conundrum in the process. Once completed, Bergmann began showing the model to people of different faiths and persuasions. From the outset, it appeared to help everyone understand his or her personal faith at a deeper level, no matter the cultural or religious background—even agnostics and atheists found it helpful. In addition, the model's experiential approach opened a new pathway for interfaith communications. Instead of talking about stories and cultures, which are different from one religion to another, people from different faiths are given a tool to talk about something that they have in common—their experiences. The resulting book—which bears the same name as the model—is clearly written, short, sprinkled with interfaith wisdom, and achieves the most difficult of feats, which is to simplify without diluting.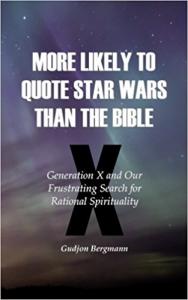 More Likely to Quote Star Wars than the Bible: Generation X and Our Frustrating Search for Rational Spirituality
by Gudjon Bergmann (May 4, 2015)
While this book is not directly about Star Wars or the Bible, it does point to a cultural reality, that a large portion of Generation X turned away from religion in their search for spirituality. This book explores that search. It is a must read for anyone from Generation X who has ever struggled with his or her spiritual identity. The central question is simple: Is there any way to be spiritual without denying rationality? This book does not provide a rock solid answer to that question, but it does explore the limits of the choices that are available to us and provides ideas about what a trans-rational approach to spirituality might look like. The goal is to start a conversation, not provide absolute answers. Written in unapologetic language by a self-described GenX poster child, and riddled with pop culture quotes, this book will spur you to think, and most certainly challenge your ideas about religion and spirituality.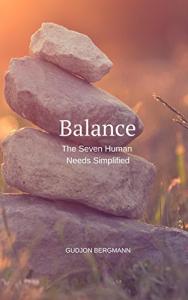 Balance: The Seven Human Needs Simplified (Kindle Edition)
by Gudjon Bergmann (November 21, 2013)
If you have ever struggled with the idea of finding balance in life, then you need to learn about the seven human needs. This book will uplift your spirits and provide you with an approach that is both rich in philosophy and practical wisdom. Inspired by the ancient chakra system, Maslows hierarchy, and other philosophical greats springs a simple idea about balance. Each need is explained in a chapter that includes practical advice, examples of imbalance and positive affirmations.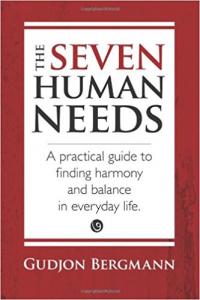 The Seven Human Needs: A practical guide to finding harmony and balance in everyday life
by Gudjon Bergmann (August 9, 2006)
Inspired by ancient Indian philosophers, Plato and modern thinkers like Maslow, Wilber and Gardner, the outcome is a new kind of self-development book. Filled with easy-to-implement ideas, combining the needs of health, mind and body all at once in order to create a wholly integrated life. By applying the practical philosophy inside this book, your life can become more creative, more spiritual and more fulfilled. You'll understand how to prioritize your resources and find the kind of balance that improves your life.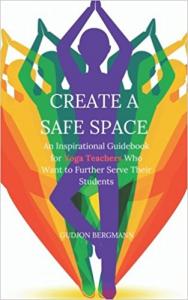 Create a Safe Space: An Inspirational Guidebook for Yoga Teachers who want to Further Serve their Students
by Gudjon Bergmann (April 27, 2012)
This valuable guidebook is intended for yoga teachers. The author is an experienced yoga educator (E-RYT 500). He ran his own yoga studio for five years, has taught well over 6000 yoga classes, and trained 80 yoga teachers. The guidebook is practical and explains how yoga teachers can create a safe space for their students and how both the students and teacher can prosper and grow. Topics include clear boundaries between teachers and students, personal practice, teaching philosophy, time management, self-confidence, the myth of the yoga voice, marketing, boredom, using prior experience, encouraging growth and questioning, ethics and more, all the time drawing on the author's years of experience and his interactions with his yoga teacher trainees through the years. The book is not written for any specific style, branch or brand of yoga, but for all yoga teachers, regardless of their affiliations and background.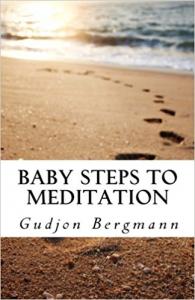 Baby Steps to Meditation: A Step by Step Guide to Meditation
by Gudjon Bergmann (July 15, 2014)
A regular meditation practice has been shown to increase focus and creativity, while also decreasing stress, anxiety, worry and tension. This little book takes twenty years of experience and study and provides a simple step by step guide to meditation, breaking the practice down to its essential building blocks, which are understanding, motivation, relaxation and concentration. Instructions are provided in crisp and easy to understand language, honoring both ancient meditative traditions and modern scientific approaches. The baby-steps approach is guaranteed to work because it is based on the core elements of both Eastern and Western traditions.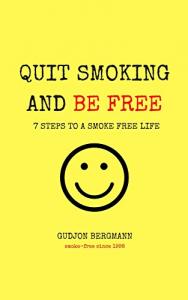 Quit Smoking and Be Free: 7 Steps to a Smoke Free Life (Kindle Edition)
by Gudjon Bergmann (November 21, 2013)
This book costs less than most packs of cigarettes. Even if you only quit for one day, you can't lose. This short, simple and easy-to-follow book, details seven simple steps to a smoke-free life that really work. The book deals with the preparation, nicotine withdrawal and mind-over-matter methods needed to create a life without tobacco. The author, an ex-smoker himself, dedicated ten years of his life to running effective smoking cessation seminars and helped thousands of people to quit smoking. He has also lectured extensively on tobacco prevention for youth and cancer groups. If your plans to quit smoking haven't been working, why not try this proven seven step plan? You can really quit smoking and be free!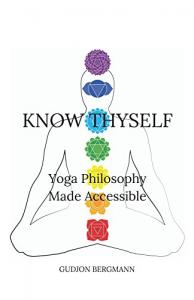 Know Thyself: Yoga Philosophy Made Accessible (Kindle Edition)
by Gudjon Bergmann (April 27, 2017)
The core philosophies of yoga are explained in such a way that it helps both the beginner and the advanced student of yoga. The book includes an explanation of the core purpose of yoga, an introduction to the four major branches of yoga, ideas on how to practice yoga in a holistic way, preparation for yoga students and what to keep in mind when choosing a spiritual teacher. The book also includes a Sanskrit glossary and a recommended reading list. The reader should gain insight into the philosophies that form the foundation of yoga.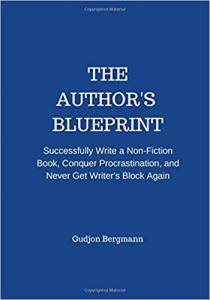 The Author's Blueprint: Successfully Write a Non-Fiction Book, Conquer Procrastination and Never Get Writer's Block Again
by Gudjon Bergmann (October 19, 2012)
This manual covers the basic steps of writing, from choosing a topic to creating a working title and a table of contents, writing without editing, rewriting and more. In addition, the blueprint talks about the psychology of writing and outlines the entrepreneurial self-publishing model. The author's blueprint is based on the know-how of a man who has authored more than twenty books since 2001 and taught hundreds of aspiring authors how to write their non-fiction books with excellent results. The process works for memoirs, how-to books, technical handbooks, personal philosophy books, and all other works of non-fiction. Whether your goal is to increase your business, establish yourself as an expert, share your story or leave a legacy, this manual will help you accomplish what you have set out to do.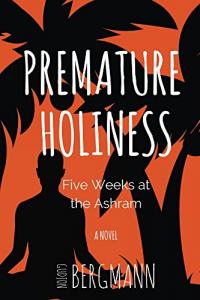 Premature Holiness: Five Weeks at the Ashram: A Novel Kindle Edition
by Gudjon Bergmann (October 10, 2016)
In this novel about yoga, self-discovery, wisdom, and human frailty, we follow sixteen yoga teacher trainees over a five week period. We experience the day to day activities at the ashram, where strict rules, close living quarters and friction between authentic yoga and it's Westernized counterpart create circumstances of turmoil and discord as well as moments of enlightenment. As we follow the interplay between the students, staff, and colorful characters who frequent the ashram, instants of discovery, empathy, and sadness pull us ever deeper into the struggle between inborn human tendencies and the yearning to rise above them.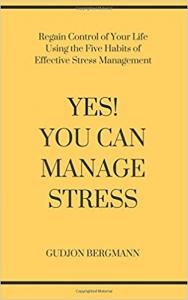 Yes! You Can Manage Stress: Regain Control of Your Life Using the Five Habits of Effective Stress Management
by Gudjon Bergmann (March 30, 2011)
This is the ultimate stress management handbook. Based on the premise that (1) stress can never be eliminated from life, but (2) it can be managed, Gudjon Bergmann introduces the five habits of effective stress management. This book includes stories about stress myths, stress definitions and detailed descriptions of each of the five habits. It is a must have guidebook for anyone who has ever struggled with stress. From relaxation, to exercise, to constructive thinking and time wisdom, the book covers every major aspect of stress management in an easy to read text. Start your journey towards stress management mastery.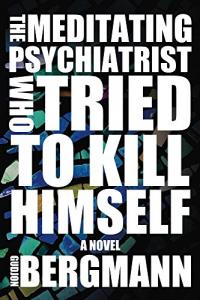 The Meditating Psychiatrist Who Tried to Kill Himself: A Novel
by Gudjon Bergmann (April 4, 2016)
In this spiritual mystery, therapist Robert Davis has his world turned upside down when he meets long-term meditator, psychiatrist, and suicidal patient, Dr. Vigo Andersen. Why, he asks, would anyone who has been meditating for more than thirty years try to kill himself? Meditation is intended to create moments of peace, not longing for death, right? As Robert's quest for answers takes unexpected twists and turns, it creates intense inner battles, threatening his own meditation practice, his family life, his sobriety, and even his sanity.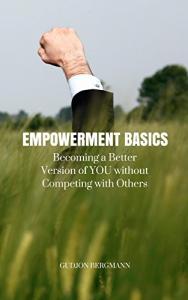 Empowerment Basics: Becoming a Better Version of YOU without Competing with Others (Kindle Edition)
by Gudjon Bergmann (November 11, 2013)
Based on fifteen years of writing and lecturing and a lifetime of pursuing personal empowerment the author presents a case for the empowerment basics that each of us should make our own. The basics include the principles of constructive thinking, ways of learning from nature, a process to create your ideal self, a recipe for building resolute self-confidence, the case for keeping your word to yourself, and the importance of remaining flexible. '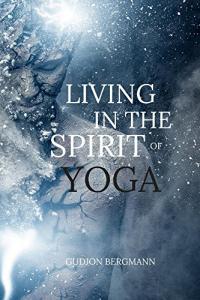 Living in the Spirit of Yoga: Take Yoga Off the Mat and Into Your Everyday Life (Kindle Edition)
by Gudjon Bergmann (November 11, 2013)
Living in the Spirit of Yoga is a how to yoga book for the 21st Century and includes twenty four topics and over 70 practices for mind, body and spirit. In it you will find core yogic ideas and practices reinterpreted for people in the 21st Century with a clear focus on their practical application for daily life. Topics include prioritizing daily life, breathing, concentration, taming the senses, discernment, self-discipline, developing a steady posture, meditation, love, non-attachment, letting go of the past, understanding cyclical energy and the energy centers, the importance of self-knowledge and more. Some of the 70 practices have been simplified based on ancient yogic approaches. From this book you can learn classic postures and breathing techniques plus relaxation and meditation practices. In addition there are practices that focus on expanding love, creating peer groups focused on self-development, flowing, surrendering and accepting life, staying steadfast while developing self-discipline, developing increased self-awareness and self-knowledge, and much more. This book is truly applicable to the 21st Century. It is free of dogma and absolutes. It invites the reader to pick and choose from a buffet of ideas and practices. But, while the author has tailored the yogic philosophies and practices to modern life he has also stayed true to the core yogic ideas of self-knowledge and self-mastery, true to the heart of yogic empathy and universal love, and true to actions of service. This book can complement a regular yoga practice and is a must read for everyone interested in a spiritual practice and better quality of life.
Trans-Rational Spirituality: A Rational Approach to Spirituality (Kindle Edition)
by Gudjon Bergmann (June 15, 2015)
Is there any way to be spiritual without denying rationality? This book is an attempt to answer that question. It is a must read for rational Westerners who long for some form of spirituality in their lives.
The first half of the book is a critique of current religious and spiritual options. The critique addresses organized religion, the twelve-step program, and the spiritual-but-nonreligious approach, all of which have serious shortcomings.
The second half of the book offers a new approach to spirituality; a trans-rational approach. The seeds sown will hopefully fertilize a vigorous discussion about what it means to be spiritual. At the very least, the book will challenge ideas about religion and spirituality and bring the reader closer to a personal approach that includes, but is not limited to, rationality.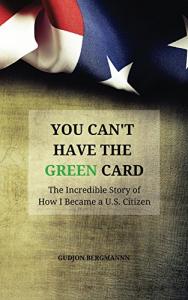 "You Can't Have the Green Card": The Incredible Story of How I Became a U.S. Citizen (Kindle Edition)
by Gudjon Bergmann (March 3, 2014)
Heartwarming, entertaining, mindboggling and inspiring, this memoir is bound to move the reader in more ways than one. Within a few years of making an unexpected discovery, a family of four, all of whom were born and raised in Iceland, became U.S. citizens.
Veteran author, Gudjon Bergmann, tells his family's incredible story. His narration leads the reader through a number of events that seem closer to fiction than fact, challenging ideas about fate and destiny, while also disclosing the mundane challenges of moving from Reykjavik to Austin.
"You Can't Have the Green Card" is a unique saga that stretches all the way back to the U.S. occupation of Iceland in World War II. It tells of a love that seemed destined to last, the seductive charm of America, a long awaited family reunion, the cultural acclimation process, and how a number of serendipitous events can truly change lives. In addition, the story chronicles an inimitable version of the much debated U.S. immigration process. While naturalized citizens may draw parallels and see their lives mirrored to some degree, the story is mainly for people who enjoy reveling in the mysterious synchronicities of life.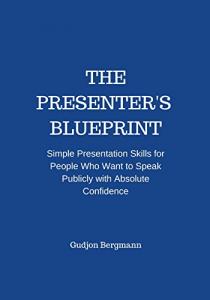 The Presenter's Blueprint (Kindle Edition)
by Gudjon Bergmann (November 11, 2013)
This blueprint focuses on the fundamentals of presenting and speaking in public. If you follow the advice you will dramatically improve your performance, your attitude will change from trepidation to intrigue and energy, your ability to speak without notes will improve and you will be energized and eager to start practicing.
Legendary football Coach Vince Lombardi was right, improvement is not about the fancy fluff – it's about the basics. The presenter's blueprint does not give twenty one or fifty three guidelines, but urges you to follow five simple strategies to consistently get better. By focusing intently on your voice, posture, goals, message and self-confidence you will get to the point where you can present anywhere, to anyone, at any time. The blueprint is based on the work of a seasoned professional speaker and presentation coach who has spent thousands of hours on stage since 1996. Whether your goal is to be able to speak at your children's wedding, present with confidence at the annual corporate meeting, voice your opinion with ease, or pursue public speaking with more vigor, this manual will help you accomplish what you have set out to do.