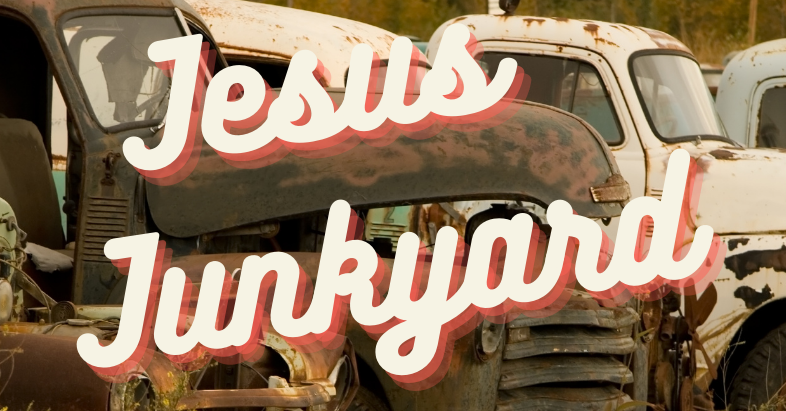 I'm thrilled to announce the latest venture of this blog — the brand-new Jesus Junkyard Podcast…which has existed for four years.
Let me explain.
About four years ago, my family and I took a road trip from Michigan to Florida. To occupy our time, I put together a 20-hour playlist that included everything from my kids' favorite hits to some of the songs my wife and I love. I also included a selection of old Christian songs I'd grown up with. I initially thought this would be a cheesy trip down memory lane, but I was surprised how much I genuinely enjoyed those songs. And it got me thinking about where some of those artists are and what their faith journey has been.
Before 'The Jesus Junkyard Podcast' there was 'Cross.Culture.Critic.'
I hit on the idea for a show that would reach out to interview those artists and hear their stories. I started a Kickstarter and everything. My initial title was going to be Why Should the Devil Have All the Good Podcasts? When I realized how hard it was for a no-name dude podcasting from his sunroom to secure guests, I called it Cross.Culture.Critic. to reframe it as a show focused on faith, pop culture and criticism.
I recorded one or two shows by myself. They're awful, and consist largely of me rambling and offering my thoughts on a variety of pop culture items. But I kept pushing on the interviews. I knew that the Christian ska-punk band The Insyderz was local, and that an old friend of mine had connections to Joe Yerke, the band's lead singer. I asked if she could hook us up, and Joe quickly said yes.
For about two hours, Joe and I sat in his car in a coffee shop parking lot talking about his experiences with the Insyderz, his career shifts and other aspects of his life. It was a great interview; if you've ever heard him talk on his other shows, Joe is one of the best conversationalists I've met. Funny, self-deprecating and smart, it was a great chat. But I was surprised when he texted after the interview was released and asked if I wanted to do something more regularly. And knowing how bad I was as a solo host, I quickly agreed.
Jesus, music and the bathroom
Cross.Culture.Critic. did eventually reach its original goal of interviewing people from the Christian music sphere. I've spoken with Five Iron Frenzy's Reese Roper and singer-songwriter Steve Taylor, as well as others about movies and other Christian culture aspects. But it quickly became apparent that the best version of the show was Joe and I sitting down and talking about Christian culture, parenting, and movies — while also learning way too much about Joe's bowel movements.
We talked about guns and creationism. We did two episodes on Christmas music and movies. One of my favorite conversations involved coming up with different bread and wine pairings for communion. Whenever we got together to record, I knew I'd hear some good stories and laugh a lot.
We took a nearly two-year break between 2018 and last summer when I was attempting to finish grad school and we both had some life changes thrust on us. When the pandemic forced us inside, we decided to pick the show back up. We record a bit more sporadically these days, but it's still always fun. And when I realized this blog's purpose lined up with the same interests I had in launching the podcast, I decided a rebrand was in order. So this week, you're getting the first episode of The Jesus Junkyard Podcast.
What to expect
This first episode finds Joe and I discussing the new branding a bit and me talking about why I always secretly hated the name Cross.Culture.Critic. We then talk a little bit about my anxieties of coming out of the pandemic. But the main focus of the episode is on a realization I had recently that my 20-year-old self would think my current self was destined for Hell. It's a good conversation, and I appreciate the insight Joe brought to it.
Going forward, I'm still ironing out the details. Joe and I tend to record once a month, but I'd love to get a more regularly release schedule going, and it's my hope to have it biweekly by the fall. That might not always include Joe, depending on his availability. I'd like to get some interviews going again, I may rope in some friends or my wife. I have some ideas and it's just a matter of seeing them play out. But right now, feel free to go back and listen to some old episodes, subscribe on iTunes and Spotify, and join in the fun!
Here's the new episode:
By the way, if you like what you here, Joe has two podcasts I recommend, Average Jerks and The Pickle and Boot Shop, which he co-hosts with Reese Roper. I also co-host a movie podcast, We're Watching Here.