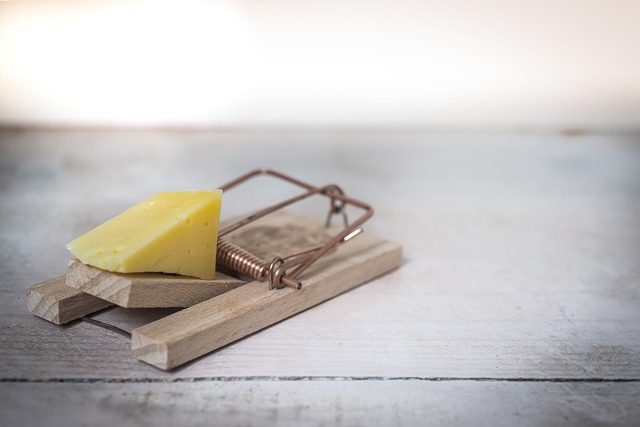 "As for you, you were dead in our transgressions and sins, in which you used to live when you followed the ways of this world and of the ruler of the kingdom of the air…All of us also lived among them at one time, gratifying the cravings of our sinful nature and following its desires and thoughts. Like the rest, we were by nature children of ire, but because of His great love for us, God, who is rich in mercy, made us alive with Christ even when we were dead in our transgressions…" [Eph. 2:1-5]
As I was reading this passage the other day, I observed something I had not noticed in quite the same way before. Here, Paul describes how cleverly God designed a trap that perfectly captured us and catapulted us from death into life.
Here's how it works: First, God knew that we were dead in our sins. He saw clearly how we thought and how our actions were motivated by our lusts and desires. Like tossing red meat into a school of sharks, God sent His Anointed One into this cesspool of humanity. What else could happen next? As with the prophets that came before Jesus, we turned on Him and put Him to death. Just exactly as He knew we would.
But, notice what happened next: "Because of His great love for us, God…made us alive with Christ…"
Paul skips over the crucifixion part, but it's clearly in play. We are dead people who are ruled by our lusts. Jesus the Holy One walks among us and we, driven by our sinful natures and evil thoughts, take Him and crucify Him.
Suddenly, God's brilliant trap is sprung. When we kill the Author of Life, He descends into the bowels of death and ignites the resurrection power within to "make us alive with Christ, even when we were dead in our transgressions."
Boom.
Don't you love that? I can't help but read it all again and smile.
God set a trap for us who were dead and Jesus became the catalyst that we killed so that resurrection could be released and everyone could be made alive with Christ.
That's genius.
Paul concludes this by saying:
"And God raised us up with Christ and seated us with Him in the heavenly realms in Christ Jesus, in order that in the coming ages He might demonstrate to everyone the incomparable riches of His grace, expressed in His kindness to us in Christ Jesus." [v.6-7]
Do you see how much He loves you? Can you believe how far He is willing to go to make you His own?
Isn't it incredible how God pulled it off?
He has taken our wrath and transformed it into love.
He has taken our death and remade it into life.
We are healed. We are alive. We are loved.
Halleluiah!
-kg
**
Keith Giles is the author of several books, including the Amazon Best-Seller, "Jesus Untangled: Crucifying Our Politics To Pledge Allegiance To The Lamb."