America has a gun problem. But America doesn't know it has a gun problem.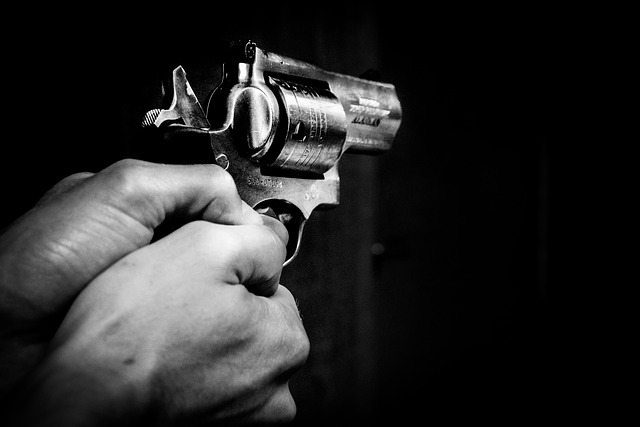 The research confirms it. Every 60 hours Americans are victims of a mass shooting. We are 10 times more likely to die from gun violence than people in other nations.
Other countries have successfully reversed gun violence, but we seem unable to do so.
More "unwilling" than unable, to be honest.
Our problem is rooted in our DNA. We have a "Right to bear arms". This means that any threat to our rights is Unamerican, and therefore a threat to Liberty and Freedom.
If we saw gun ownership as more of a responsibility or as a privilege, instead of a right, then maybe we might take a different approach to our current problem.
I recently posted this image on my Facebook wall.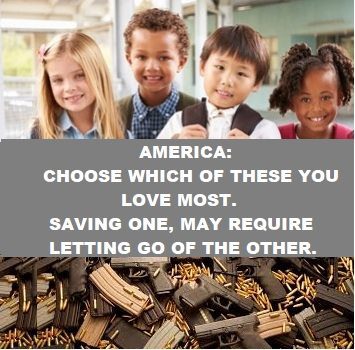 Mostly as a thought experiment; to help people see that there is a problem and that to solve it we just might have to decide which we love more – our kids or our guns.
My dilemma is this: I do not believe in politics to solve our problems. I wrote a book about the evils of being entangled with politics. I was once a member of the NRA. I voted "Straight Ticket" Republican my entire life. I used to believe that it was impossible to be a real Christian without voting Conservative.
But now I've realized that the whole thing – Left, Right and in the Middle – is a joke and an empty promise.
Still, we cannot solve our problem if we don't admit we have one. So, my hope is to at least help people to see that we do have a problem with guns, and once we confess this as a nation, then maybe we can talk about how to fix it.
"It's a heart issue!"
Yes, but if it is
only
a heart issue, then American hearts are the most murderous and violent on earth. And if so, then maybe people with hearts like ours shouldn't have free and easy access to assault weapons designed to kill as many people as possible in the shortest amount of time.
"It's a mental health issue!" Maybe, but if so then can we at least agree that it would be better to provide more care, counseling, and other services to these people rather than make it easier for them to purchase deadly weapons? This increase in mental health care would also significantly help our homeless epidemic too, by the way.
"You're playing into the Liberal Agenda!" If so, I can assure you it is not by design. But if a Samaritan comes to clean my wounds and pulls me out of the ditch, do I really care if he is a Samaritan, or a Liberal, or a Republican? It's Tribalism like this that is killing us. We are blind to our own humanity. We only see Red or Blue people, not humans like us who love their children the same way we love our own children.
This Tribalism is so bad that Pastors on a Sunday morning cannot preach the words of Jesus from the Sermon on the Mount without their congregations bristling when Jesus says "Love your enemies" or "Care for the poor" because that's just "Liberal talk".
American Christians seem to view everything through their political lens. If only we could see through the lens of Jesus, then maybe the veil would be taken away. [2 Cor. 3:14]
But I do see a glimmer of hope for the future.
Our children are largely immune to this Tribalism. They don't care about Hillary or Trump. They are tired of seeing their friends shot and killed in the classroom, or the nightclub, or the concert. They are tired of watching as their parents do nothing because they are paralyzed by their politics.
One day our children will grow up. They will take the baton out of our cold, dead hands and they will finally do what we cannot – and will not do.
I pray that day comes soon.
The Spirit and the Bride say: "Come quickly!"
Amen.
**
Keith Giles is the author of several books, including "Jesus Untangled: Crucifying Our Politics To Pledge Allegiance To The Lamb". He is also one of the co-hosts of the Heretic Happy Hour podcast. He lives in Orange, CA with his wife and two sons.