For thousands of years, every major culture saw blood sacrifice as an acceptable – even essential – means of worship. To appease the gods one must shed blood – human or animal – so that rain would fall, crops would grow and soldiers would be victorious in battle. This was the unquestionable center of all religious activity for cultures all over the world for centuries.
Today, however, the practice of blood sacrifice is almost universally regarded by everyone as barbaric, archaic and primitive. No one today would ever seriously consider animal sacrifices as a viable method of worship.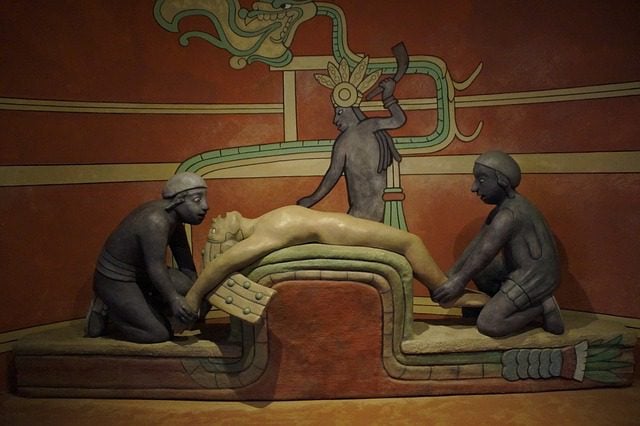 What happened to change all of this? Why has everyone completely changed their mind about blood sacrifice?
It's Jesus.
See, just as the prophet Daniel was told in his vision, the Messiah to come would "put an end to sacrifice and offerings." [Dan. 9:27]
This is exactly what Jesus did. As the "Lamb of God who takes away the sins of the world," Jesus was the sacrifice to end all sacrifices. He not only fulfilled the shadow of the Jewish sacrificial system – which remains dormant to this very day after nearly 2,000 years – Jesus also exposed the entire scapegoating mechanism. He disarmed it by bringing it out into the light and allowing everyone to see it for it really was: A broken system that punished one for the sins of many.
This is why, today, no one can take this sacrificial system seriously anymore.
Jesus brought an end to the daily sacrifice, not just for Jews, but for the entire world.
In short: Jesus changed our minds about animal sacrifices. The wisest of the Greeks and the Romans – Plato, Aristotle, Homer, Socrates, etc. – all widely accepted this blood sacrifice system as "normal" and acceptable worship. Not one of them challenged the status quo.
But Jesus said to the Pharisees: "Go and learn what this means: 'I desire mercy, not sacrifice'" in Matthew 9:13, quoting from Hosea 6:6, which challenged the status quo of the entire human race on the question of worship by animal sacrifice.
Jesus questioned the sacrificial system and affirmed that the way to please God was to show mercy to others, not to offer blood sacrifices.
In other words: It's not death that pleases God, it's your life.
How we live, then, matters a great deal to God. Jesus gave us a radical pattern of mercy, love, and forgiveness to follow in His Sermon on the Mount, and then He invited us to walk in that same path as He did.
This is how we please God: We live lives of love and mercy in the here and now. We bless those who curse us. We do good to those who hate us. We overcome evil with good. We forgive as we have been forgiven. We love as He loved us, (which is to say, a whole lot).
Paul uses the term "living sacrifices" in Romans 12; something that must have been the ultimate oxymoron to anyone living at the time.
How can a "sacrifice" – which is all about knives and blood and burning flesh – ever be "living"?
But, if what Jesus says is true, then it is our life that pleases God; it is our life that makes the difference, not our death, our anyone else's.
Today the concept of a sacrifice is still viable, even outside of religious context. But the idea now is more like when parents sacrifice their own comfort so their children can go to college or have a better life than they did. We understand now that a good sacrifice is when one person voluntarily gives up something valuable so that someone else can enjoy the blessing. (Kind of like what Jesus modelled for us).
No one today would ever see this as "appeasing the gods", but the principle is still the same: Whenever we give up something of value in order to bless someone else, this is a very beautiful thing.
Also, when Jesus says: "I desire mercy, not sacrifice," I believe He is letting us know what really matters in His Kingdom.
Instead of killing an animal, or shedding blood, to appease the Deity and receive blessings, we are expected to show mercy and love and forgiveness to one another. As Jesus said, "Now that you know these things, you will be blessed if you do them." (John 13:17)
Please understand: It is not mere knowledge that unlocks the blessing for us, it is the act of putting this knowledge into practice. So, if we now understand that what God requires is not sacrifice but mercy, kindness, forgiveness, and love, then once we begin to live our lives this way, we will begin to experience the blessings, or the fruit, of that obedience. Not only us, but the entire world. Because the model that Jesus has passed on to us is that we are to bless others – even our enemies – with the same extravagance as He has shown to us.
This is the way we move forward as a society. This is how we make the world better: We love one another as He has loved us. We turn the other cheek. We bless those who curse us. We show mercy to the unmerciful. We feed our enemy if he is hungry and share a cold cup of water if they are thirsty. This is the ultimate expression of the new heaven and the new earth.
All that remains is for those who hear these words to put them into practice. When we do this, two things happen, according to Jesus: We are blessed and He is truly our Lord.
Now, go and learn what this means.
**
Keith Giles is the author of "Jesus Untangled: Crucifying Our Politics To Pledge Allegiance To The Lamb" and co-host of the Heretic Happy Hour Podcast which you can hear on iTunes and Podbean. He and his wife and their two boys live in Orange, CA where they are part of a house church where no one takes a salary, Jesus is the Senior Pastor and 100% of the offerings go to help the poor in the community.