I realized the other day that I spend a lot of my time trying to introduce Christians to Jesus. The hard thing is, most of them don't realize that they're not following Jesus. They think that because they are "Christians" or because they prayed the sinner's prayer, that means they're Christ-followers. Unfortunately, no.
Here's how I know this: I used to be just like them.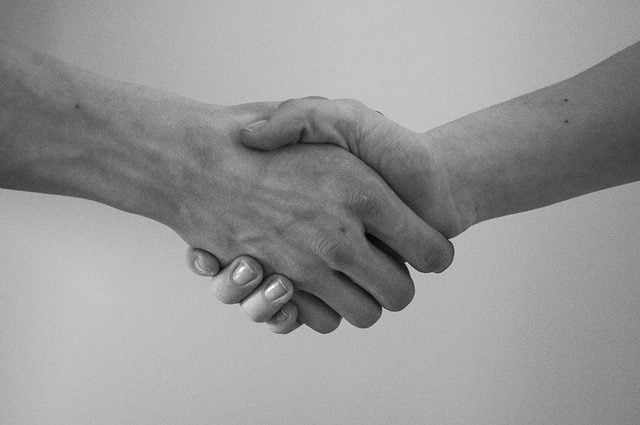 I was actually a licensed and ordained minister of the Gospel who had served as a youth pastor, children's pastor and compassion ministry pastor at several different churches over a ten year period who did not realize that following Jesus and being a Christian were not the same thing.
Actually, what I didn't realize was that the Gospel wasn't about saying a prayer so you could go to heaven when you die. Once I realized that everything changed.
The Gospel, according to Jesus, and as explained in the Gospels of Matthew, Mark, Luke and John is simply this: "Repent! [Literally, "Think different!"] "The Kingdom of God is at hand!"
Jesus's entire ministry was spent proclaiming the Kingdom of God was here – right now – and that anyone and everyone could experience the rule and reign of Christ in their life today.
In other words, the Gospel that Jesus preached was a Gospel for your life, not a Gospel that waited to kick in after you were dead.
What confuses so many Christians today about the Gospel is that they tend to follow Paul rather than Jesus. Because of this, they take Paul's statement out of context when he says:
"Now I make known to you, brothers, the gospel which I proclaimed to you, which you have also received, in which you also stand, 2 by which you are also being saved, if you hold fast to the message I proclaimed to you, unless you believed to no purpose. 3 For I passed on to you as of first importance what I also received, that Christ died for our sins according to the scriptures, 4 and that he was buried, and that he was raised up on the third day according to the scriptures, 5 and that he appeared to Cephas, then to the twelve, 6 then he appeared to more than five hundred brothers at once, the majority of whom remain until now, but some have fallen asleep." [1 Cor. 15:1-6]
So, is this the Gospel? Well, it's part of the Gospel. But the Gospel is defined by Jesus, not by Paul. The 4 books of the New Testament that are called "Gospels" are where we find the Gospel. [Can't believe I just needed to type that].
But, it's not as if Paul had one Gospel and Jesus had another. Far from it. Paul preached the same Gospel of the Kingdom and he tells us so, many, many times:
"I have gone [among you] preaching the kingdom of God" – Acts 20:25
"We must go through many tribulations to enter the kingdom of God." – Acts 14:22
"For the kingdom of God is…righteousness and peace and joy in the Holy Spirit." – Romans 14:17
"For the kingdom of God is not a matter of talk but of power." – 1 Cor. 4:20
"Paul entered the synagogue and spoke boldly there for three months, arguing persuasively about the kingdom of God." – Acts 19:8
"He [Paul] witnessed to them from morning till evening, explaining about the kingdom of God, and from the Law of Moses and from the Prophets he tried to persuade them about Jesus." – Acts 28:23
"He [Paul] proclaimed the kingdom of God and taught about the Lord Jesus Christ—with all boldness and without hindrance!" – Acts 28:31
"Now I [Paul] know that none of you among whom I have gone about preaching the kingdom will ever see me again." – Acts 29:25
There is only one Gospel and it is the Gospel that Jesus came and died to proclaim: We are all invited to experience a connection with the Divine – here and now – through the abiding and indwelling Spirit of Christ.
This is what the New Covenant is all about! This is what God had in mind all along:
"I will be your God and you will be my people…and no one will inquire of his neighbor, or his brother, saying, 'Know Yahweh,' for all of them will know me, from their smallest and up to their greatest," [Jer. 31:31]
This New Covenant is what Jesus established in his own blood and body. We celebrate this everytime we share Communion together and with Him.
God has come near. His name is Emmanuel. We can know Him directly – deeply and intimately – without any mediator between us and Him except for Christ who came to reveal the Father to us.
Dear Christian, let me introduce you to Jesus.
**
Keith Giles new book "Jesus Unbound: How the Bible Keeps Us From Hearing the Word of God", is available now on Amazon and features a Foreword by author Brian Zahnd.
He is also the author of the Amazon best-seller, "Jesus Untangled: Crucifying Our Politics To Pledge Allegiance To The Lamb".
Keith also co-hosts the Heretic Happy Hour Podcast on iTunes and Podbean. He and his wife live in Orange, CA with their two sons.
BONUS: Unlock exclusive content including blog articles, short stories, music, podcasts, videos and more on my Patreon page.