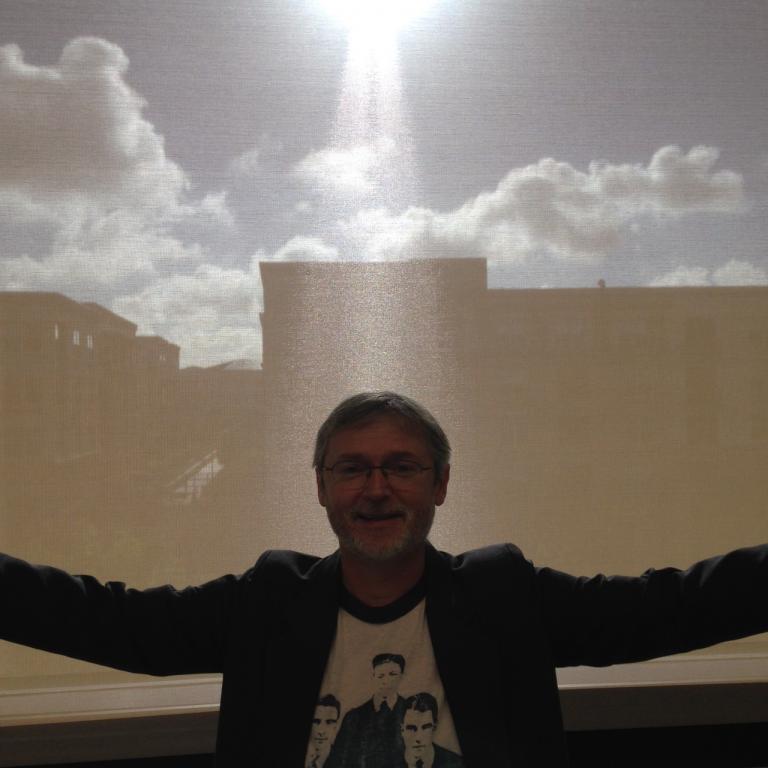 The other day, a friend responded to one of my posts by saying that I reminded him of Christ because of something I did or said. That was a blessing. I honestly do have a very real desire to be like Christ, and so whenever someone says they can see Christ in me, it really means a lot.
However, after that comment, my friend went on to say that I was Christ, which I think I can honestly say is taking it a bit far.
Now, I do believe that we – those who follow Christ – are not only filled with Christ as we abide in him and he in us, but that we are also agents of Christ in the world today. So, in some ways I would affirm the concept that Christians are intended to be the hands of Christ, the feet of Christ, the Body of Christ, and even demonstrate the love of Christ in tangible ways to everyone around us.
All of this is very scriptural. For example:
"So we are ambassadors for Christ, since God is making his appeal through us…" (2 Cor. 5:20)
"And God placed all things under his (Christ's) feet and appointed him to be head over everything for the church, which is his body, [that's us] the fullness of him who fills everything in every way." (Eph. 1:22-23)
"To them God has chosen to make known among the Gentiles the glorious riches of this mystery, which is Christ in you, the hope of glory." (Col. 1:27)
But, there is a big difference between "like" Christ, and being "in" Christ, and being "filled" with Christ and "being" Christ.
For example, if someone saw me dunk a basketball over someone's head with my tongue sticking out, they might say: "Wow! You dunked that ball just like Michael Jordan."
That would be true. I would have done this "like" Michael Jordan, but to take that further to say that I "am" Michael Jordan would be so very, very false.
In fact, it's impossible to be "like" someone and also "be" someone. In the example above, if Michael Jordan dunked a basketball over someone's head, they would not say: "Wow. You're just like Michael Jordan."
No, they would say, "Hey, you ARE Michael Jordan!"
Michael Jordan is Michael Jordan. He is not "like" Michael Jordan.
I may be "like" Christ whenever I am abiding in Christ and showing the character of Christ in my words and deeds, but I am not Christ. Christ is Christ.
To put it another way: I may be Christlike, but I will never be Christ.
I've used the example of a glass of wine to illustrate this before. A wine glass is created to do one thing: Hold wine. So, whenever a wine glass is filled with wine, it is fulfilling its purpose. I may receive wine from the wineglass and I may even praise the glass for being filled with this wine, but no one would ever confuse the wineglass for the wine.
We are vessels that are intended to be filled with the fullness of Christ. When we are filled with Christ we begin to love and serve and share and forgive like Christ. In those cases, someone can honestly say "I see Christ in you", in the same way someone might say "I see wine in that glass." But the wine is not the glass, and the vessel is not the substance it carries.
We are very blessed to be filled with Christ, and it is a great honor to be the hands and feet of Christ to the world around us, but no matter how Christlike we may be, we will never be Christ.
Christ is our source and the One in whom we all live and move and have our being. Christ is the source of all life, and truth. Christ is our connection to the Divine. But we are not Christ.
We are like branches sprouting out of the vine that gives us life, but we are not the vine.
There is only one Christ. Our greatest aim is to be like Christ.
If we were already Christ, there would be no need for transformation.
Let's remember this.
**
Keith Giles was formerly a licensed and ordained minister who walked away from organized church 11 years ago, to start a home fellowship that gave away 100% of the offering to the poor in the community. 
His new book "Jesus Unbound: Liberating the Word of God from the Bible", is available now on Amazon and features a Foreword by author Brian Zahnd.
He is also the author of the Amazon best-seller, "Jesus Untangled: Crucifying Our Politics To Pledge Allegiance To The Lamb" with a Foreword by Greg Boyd.
Keith also co-hosts the Heretic Happy Hour Podcast on iTunes and Podbean. He and his wife live in Meridian, Idaho, awaiting their next adventure.
BONUS: Want to unlock exclusive content including blog articles, short stories, music, podcasts, videos and more? Visit my Patreon page.