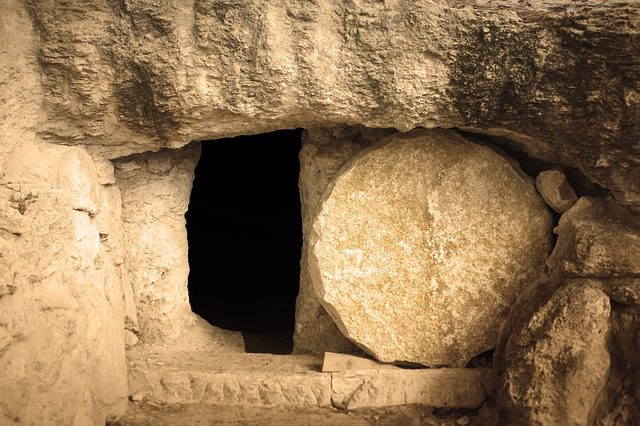 We, the Church, are the Body of Christ. We are the physical representation of Jesus in the world today.
As the Body of Jesus, we seem to be much more comfortable in the dark of the tomb, wrapped in our own shroud, meditating on this death of our Lord, with the stone rolled shut across the door.
We ignore that what we are called to do – as the living Body of Jesus – is to go out and proclaim, demonstrate and testify with our lives the awesome miracle that "Jesus is Alive!" and that we are living examples of this fact.
What I long for is the day when we are bold enough to declare, as one people, with one voice, that Jesus is Alive, and that our conduct in the world would bear witness to this fact.
Our inactivity, our apathy, our aversion to serve others and live out the compassion of Jesus, sadly proclaims that Jesus is dead.
It's when we live for Him, when we continue to love the way He did, when our lives are in sync with His, that we proclaim by our actions that, yes, indeed, Jesus is really alive!
Is Jesus really alive? Has He really come to live in your life? And how would anyone know this to be true if you never actually demonstrated the life and love and ministry of Jesus in your own life?
Do we, as individual followers of Jesus, feel safer within the quiet of the tomb? Or are we willing, even eager, to roll away the stone and begin to live the truth of the power of the Gospel?
If we, the Body of Jesus, do not act as a living Jesus would, within this world, loving those He loved, sharing with those He spent time with, continuing His ministry of transformation, then we do not demonstrate that Jesus is alive, we simply testify that He has died.
What we must do is to wake ourselves from our slumber, shake off the apathy, and begin to proclaim, with our own lives, that Jesus is truly alive.
"I tell you the truth, anyone who has faith in me will do what I have been doing."- John 14:12
"Whoever claims to live in him must walk as Jesus did."- 1 John 2:6
Is He Risen? Is He Risen Indeed?
People are waiting to see.
**
Join me this summer at one of these upcoming events:
*El Paso, TX – May 19 "United We Stand"
*Costa Mesa, CA – June 22 "United We Stand"
*Hot Springs, NC – July 11-14 "Wild Goose Festival"
Want Keith to come speak at your church or in your home town? Learn more HERE
Keith Giles was formerly a licensed and ordained minister who walked away from organized church 11 years ago, to start a home fellowship that gave away 100% of the offering to the poor in the community. Today, He and his wife live in Meridian, Idaho, awaiting their next adventure.
His new book "Jesus Unbound: Liberating the Word of God from the Bible", is available now on Amazon and features a Foreword by author Brian Zahnd.
He is also the author of the Amazon best-seller, "Jesus Untangled: Crucifying Our Politics To Pledge Allegiance To The Lamb" with a Foreword by Greg Boyd.
Keith also co-hosts the Heretic Happy Hour Podcast on iTunes and Podbean.
BONUS: Want to unlock exclusive content including blog articles, short stories, music, podcasts, videos and more? Visit my Patreon page.