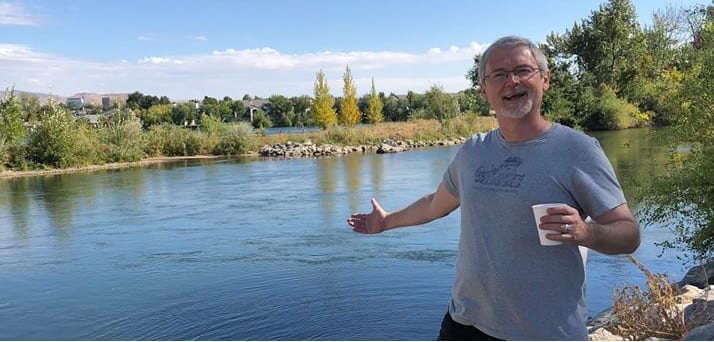 Moving sucks.
But, you already knew that, I'm sure.
Wendy and I moved to Boise, Idaho a year ago. We left behind our house church family, our two sons in college, and 25 years of our life in Southern California to take a new job that seemed too good to be true. [It was].
So, since January of this year I've been focused on growing my freelance copywriting business, writing and publishing two new books, starting online courses based on my previous books, and blogging for Patheos…among other things.
I've likened this phase to walking on water, because somehow we are making it financially even though I'm still not 100 percent sure how. But, this is something I've dreamed of doing for a few years now – writing and working as a full-time author, speaker, teacher and blogger – and it's finally coming together.
That's one good thing about our trip to Idaho and our last 12 months of shifting from working a job to writing full-time. I don't think I could have ever turned the corner if we didn't have any other choice but to make this work. So, for that I am grateful for the experience, even if it was pretty scary and very painful to go through.
Today, Wendy and I are loading up a very large moving van and preparing to pack everything up – again – and move to El Paso, Texas over the weekend.
Wendy and I first met in El Paso, TX. It's where we both attended high school and college at UT El Paso. It's where we first fell in love, got married and started our life together 30 years ago this October.
You could say we are going back to Square 1. [Which, coincidentally, is the name of the new 90 Day online coaching program I've put together to help people move from Deconstruction to Reconstruction. This also starts next week while we're unpacking our stuff in our brand-new El Paso home. Weird, huh?]
But, as we prepare to say goodbye to the Treasure Valley [Boise and Meridian, Idaho], there are a few things we will miss:
*Our Idahome Church family – These 2 couples – Mark and Marcia and Michael and Claudia – have been a source of life and light to us here. We can hardly imagine saying goodbye to these wonderful human beings who so eagerly embraced us and welcomed us into their hearts and homes during our time here.
*Our friends Craig Morton, Thomas J. Oord, Dean and Judi Estes, and Nick and Laura Armstrong of Peace Catalyst International. – These people are amazing. They shared our hearts for Jesus and a passion for serving and standing for the Gospel of the Kingdom. We will really miss our coffee and lunch conversations with all of these dear people.
*The Wright Family – We've known this amazing family for about 18 years or so. Having first met them before we started the house church, and then sharing that experience with them and then saying goodbye to them when they first moved to Boise about 2 years ago, and then moving down the street from them a year ago when we moved here…it's hard to imagine our journey without them. They've all been a huge blessing to us and we will miss our annual Octoberfest and Saint Patrick's Day celebrations with them [which are way weirder and stranger than any mere mortal could ever comprehend].
*The Kabob House –
In our never-ending [and mostly fruitless] quest for great food in Boise, the Kabob House was our greatest discovery. But, I didn't only find a great place to eat, I seriously made a new friend. Shams, the owner of Kabob House is a physician from Afghanistan. He moved to the United States with his wife and children a few years ago and started the restaurant with his family. He is a wonderful human being who embraced us and literally called me his brother the very first time we visited his establishment.
As we were leaving on that first night we met, he put his arms around me and patted my heart with his hand and told me: "You are Christian. I am Muslim. We are brothers. One God. One family. Jew, Muslim or Christian. No difference. One God. One family. You and I are brothers."
Wow. I am really gonna miss that guy.
So, we'll also miss the beautiful Boise River, and our frequent walks along the water. We'll miss the beautiful green trees and grass in the summer, and the gorgeous orange and red leaves in the fall.
We regret that we didn't really get to know our neighbors very well. [A few conversations here and there, but no deep connections, unfortunately]. We regret that we'll have to learn to live without Trader Joe's. [The closest one is in Albuquerque, NM, about hours away].
But, once we leave Idaho in our rear view mirror, we look forward to what God has in store for us back in El Paso, TX. We hope to start another house church there, and to have an impact on the community, and to serve the poor there, and to reform connections with old friends from college and high school who are still there.
Overall, this season in Idaho has been wonderful, except for a few rough patches here and there. We're grateful for God's grace to us while we were here, and we're hopeful that our season in El Paso, Texas will be even more amazing and hopefully a bit less challenging than our time here has been.
The truth is: God is good to us, wherever we go and whatever we do. We know that God will lead us and bless us and pour out His grace on us no matter where we live. So, that gives us hope.
I'm just trying not to hyperventilate as I think about driving a huge truck from Idaho to Texas over three long days. Our hope is to take it slow and enjoy the ride. That's probably good advice no matter where you live, or what you're doing.
The next time I post here I'll be blogging from our new home in Texas.
Yeeehaaawww!!
**
Keith Giles was formerly a licensed and ordained minister who walked away from organized church 11 years ago, to start a home fellowship that gave away 100% of the offering to the poor in the community. Today, He and his wife are returning to El Paso, TX after 25 years, as part of their next adventure.