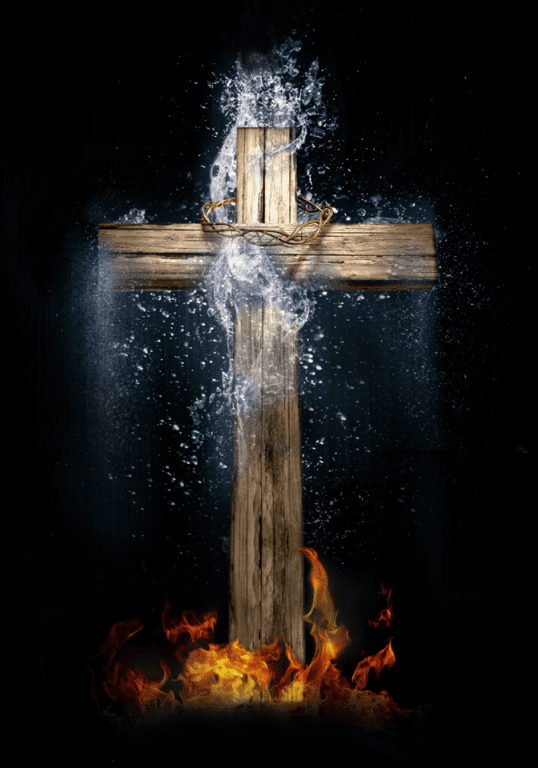 "And if your eye causes you to sin, tear it out. It is better for you to enter the kingdom of God with one eye than with two eyes to be thrown into hell, 'where their worm does not die and the fire is not quenched.' For everyone will be salted with fire." – Jesus [Mark 9:47-49]
Yes, according to Jesus, and also to the Apostle Paul [and most of the early Church Fathers for the first 500 years of Church History], EVERYONE will pass through the fires of judgement – not just those who die without Christ – everyone.
Paul puts it this way:
"Now if anyone builds on the foundation with gold, silver, precious stones, wood, hay, straw— each one's work will become manifest, for the Day will disclose it, because it will be revealed by fire, and the fire will test what sort of work each one has done. If the work that anyone has built on the foundation survives, he will receive a reward. If anyone's work is burned up, he will suffer loss, though he himself will be saved, but only as through fire." [1 Cor. 3:12-15]
So, even if you have prayed the prayer and walked the aisle and completed the membership class and been baptized by the Senior Pastor, the fact is that you will still have to pass through the fires of judgement.
Hell, it seems, is an unavoidable reality for every human being.
In contrast to what most Christians today teach, the New Testament affirms that all will pass through the fire, but it's the nature and purpose and duration of that fire that some Christians debate over.
In fact, it's been this way from the very beginning of Church History. From the earliest recorded history of the Christian Church, there have always been three different views of the afterlife: Annihilation [or Conditional Immortality], Eternal Torment, and Patristic Universalism [or Apokatastasis].
All three views have some things in common:
*They all believe that those without Christ will pass through the fire
*They all believe this fire will involve some form of judgment for our behavior in this life
*They all believe that this fire will be unpleasant
Here's what the three views disagree about:
*The purpose of the fire
*The duration of the fire
*The nature of the fire
I've just completed my final draft on a new book which covers this topic in great detail called "Jesus Undefeated: Condemning the False Doctrine of Eternal Torment" which will be available on Amazon November 9, 2019.
In the course of researching and writing this book I've come to realize a few things about this doctrine:
*Eternal Torment is the weakest of the three views of the afterlife
*Patristic Universalism was the dominant [majority] view of the Church for about 500 years
*Annihilation and Patristic Universalism have the strongest Scriptural support of the three views
*Most of the verses supporting Eternal Torment are misunderstandings of Old Testament Apocalyptic Hyperbole statements borrowed from Jeremiah, Isaiah, Daniel, Ezekiel and other prophets
*The Eternal Torment view does not appear in any Old Testament texts
*The Eternal Torment view originated from pagan sources and influences which crept into Judaism in the Intertestamental period between the end of the Old Covenant and the coming of Christ
*Paul the Apostle is the strongest proponent of the Patristic Universalist view – without Paul's writings there would be no evidence for Universalism
What I hope to accomplish in my new book is to help Christians today realize these shocking truths and to open their minds to the possibility that the Eternal Hell they believe – and have been indoctrinated to see when they read the Scriptures – doesn't actually exist in the way they think it does.
Not only this, I hope to show Christians that God is better than they think He is, and that the Good News of the Gospel is even greater news than they ever dared imagine.
Chances are, if you grew up in the Christian Church like I did, you've never been told any of these things about the history of the early church, the dominant view of Universalism for the first 500 years, the fact that there have always been three views of the afterlife, and that what Jesus is talking about when he says "the worm does not die and the fires are not quenched" has nothing to do with happens to us after we die.
I know that, for many, these concepts are just too unbelievable to accept. But, my hope is that some will be ready to listen to the truth and to examine their assumptions about Hell and the afterlife with an open mind, and an open Bible.
Hopefully we can expose the false doctrine of Eternal Torment once and for all and return to the original doctrine of the Christian Church that proclaimed ultimate reconciliation for everyone and total forgiveness and boundless love for every human soul.
"It is for discipline that you have to endure. God is treating you as sons. For what son is there whom his father does not discipline? 8 If you are left without discipline, in which all have participated, then you are illegitimate children and not sons. 9 Besides this, we have had earthly fathers who disciplined us and we respected them. Shall we not much more be subject to the Father of spirits and live? 10 For they disciplined us for a short time as it seemed best to them, but he disciplines us for our good, that we may share his holiness. 11 For the moment all discipline seems painful rather than pleasant, but later it yields the peaceful fruit of righteousness to those who have been trained by it." [Hebrews 12:7-11]
"For to this end we toil and strive, because we have our hope set on the living God, who is the Savior of all people, especially of those who believe." [1 Tim. 4:10]
"…In Christ God was reconciling the world to himself, not counting their trespasses against them, and entrusting to us the message of reconciliation." [2 Cor. 5:19]
**
Keith Giles was formerly a licensed and ordained minister who walked away from organized church 11 years ago, to start a home fellowship that gave away 100% of the offering to the poor in the community. Today, He and his wife are returning to El Paso, TX after 25 years, as part of their next adventure.
Are you an aspiring author? Keith is leading an
Author's Academy
starting Nov. 4. Learn how to become a full-time author and crack the code for building your platform and marketing your books online. Details
HERE.
Keith next book, "Jesus Undefeated: Condemning the False Doctrine of Eternal Torment" releases Nov. 9, 2019 on Amazon and features a Foreword by author Brad Jersak.