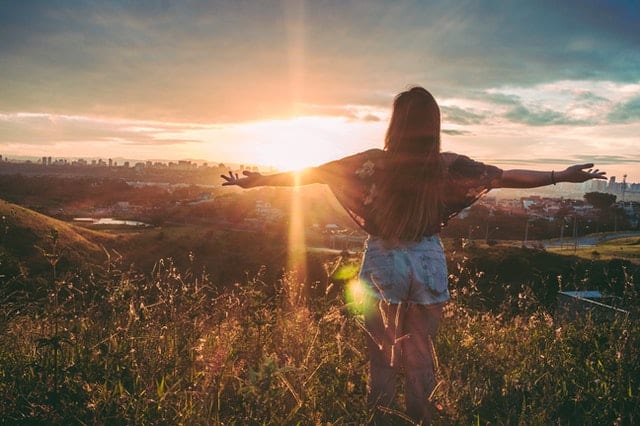 It's kinda funny how, once your eyes are opened, you can start to see things in the Scriptures you've never noticed before.
Like this verse – 1 Cor. 15: 17 – which I was reading the other day and suddenly the truth of what it was saying jumped out at me and nearly took my breath away.
Here's what it says: "…and if Christ has not been raised, your faith is worthless; you are still in your sins."
Now, the entire point that Paul is trying to make here is that Christ has risen from the dead. He's arguing that if Christ has not been raised, then we have no hope, and our faith is empty, and – this is the good part – we are still in our sins.
However, since Christ HAS risen from the dead – and Paul intends to teach that this is exactly what happened – then the implications of that reality are simply this: We are no longer in our sins.
Do the math: Christ has been raised. Therefore, no one is still in their sins.
This is entirely consistent with what Paul teaches in 2 Corinthians 5:19 – "…that God was, in Christ, reconciling the world to himself, not counting our sins against us. And he has committed to us the message of reconciliation."
And it's also consistent with what John the Baptist says about Jesus when he famously points to him and says, "Behold! The Lamb of God who takes away the sins of the World."
See, the way Jesus responds to our sins is to forgive. All the time. Every time. Even before anyone asks for forgiveness.
It's just what Jesus does. He forgives.
But, doesn't God judge us for our sins?
Nope.
"Moreover, the Father judges no one, but has entrusted all judgment to the Son.." [John 5:2]
Hear that? The Father judges no one.
But, the Father has trusted Jesus alone to do all the judging.
So, what does Jesus say about how he intends to fulfill his role as our judge?
Only this:  "You judge by human standards; I pass judgment on no one." [John 8:15]
Jesus goes on to say – after his resurrection – that the only sins that will not be forgiven are the ones we don't forgive.
"If you forgive the sins of any, their sins have been forgiven them; if you retain the sins of any, they have been retained." [John 20:23]
Why? Because God has already forgiven everything. The only ones still hanging on to sin? That's us. So, maybe we should let it all go?
Embedded in the New Covenant promises that Jesus proclaimed in the upper room is this:
"For I will be merciful to their iniquities, And I will remember their sins no more." [Hebrews 8:12]
God has responded to our sinfulness by wiping it all away forever. We are forgiven. Christ's resurrection proves that no one is still in their sins. No one.
We are all forgiven. Including you.
The sooner we believe it, and start sharing it with others, the better we'll all be on this planet.
God has forgiven and forgotten every sin. It has been dealt with. The Lamb of God who takes away the sins of the World has completed his mission. "It is finished!"
We don't need to beg for it. We don't even need to ask for it.
We're just forgiven. Every single one of us.
Now let's start to live like we believe it.
**
FREE DOWNLOAD:  The e-book "Unraveled: More Thoughts On Christian Entanglement" by Keith Giles is available now as a free PDF. If you'd like a FREE download of the entire 85-page book, you can grab one HERE
Keith Giles and his wife, Wendy, work with Peace Catalyst International to help build relationships between Christians and Muslims in El Paso, TX.  Keith was formerly a licensed and ordained minister who walked away from organized church over a decade ago to start a home fellowship that gave away 100% of the offering to the poor in the community. Today he is the author of several best-selling books, including "Jesus Undefeated: Condemning the False Doctrine of Eternal Torment" which is available now on Amazon.