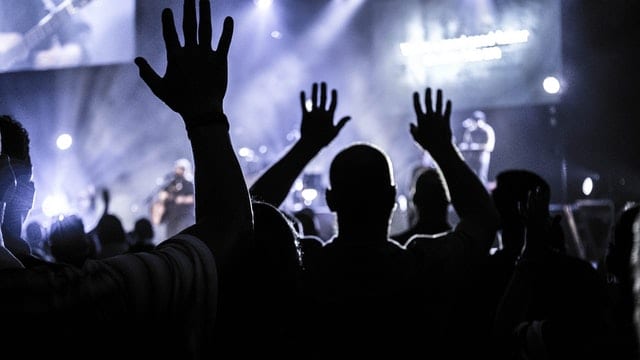 I'm very excited to announce an upcoming Christian Conference that I've just put together for early 2021.
The lineup is off the hook. I've secured keynote presentations from people like Rob Bell, N.T. Wright, David Bentley Hart and Richard Rohr.
But then a friend looked at this lineup and said, "Wow. That's a lot of white men." So, I also invited Dr. Cornell West, Kyle Butler, Derrick Day and Bishop Carlton Pearson to speak so we had a solid balance of black and white representation on the bill.
Then another friend said, "Hey, that's a lot of testosterone on that stage." And you know what? she was right! So, I also invited Anne Lamott, Nadia Bolz-Weber, Meg Calvin and Kristen Du Mez to speak.
But someone pointed out something I hadn't notice about this group. They said, "Hmm…so many straight people on that lineup. What's the story there?" So, of course, I also invited some great LGBTQ+ speakers like Kevin Garcia, Matthew Vines, Vicky Beeching and Gregory Coles.
What a group! I was so excited about this conference as I looked over these amazing speakers, until someone else said, "Hey, why are there so many able-bodied people on this list? What about the voice of the disabled?"
So, then I searched and found 4 amazing and talented teachers and invited them. One friend who has cerebral palsy agreed to share, and another friend who is blind, and then two other friends who have terminal cancer jumped on board.
I couldn't contain my excitement! Truly this would be the best Christian Conference ever!
But, then someone burst my bubble by pointing out that we had no Asian voices represented. So, that's when I invited Cindy Wang Brandt, Rita Nakashima Brock, Francis Chan and Chloe Sun.
Finally! My conference presenters were fully assembled.
That was until another person helped me to realize that I hadn't included any Native American voices at all. I was so embarrassed. How could I have left out such an important people group? So, I scoured the internet and found 4 amazing Native American teachers who could round out the list.
But, then another person really blew my mind when they showed me that the wisest and most profound truths often come from some very unexpected places. Not authors and teachers and professors and professional keynote speakers, but the simple wisdom that comes from grandmothers and small children.
So, after a few days I found two elderly women at the local Senior Center who had amazing stories to share and two six-year olds (one boy and one girl) who I really can't wait for everyone to hear.
But then, wouldn't you know it, another friend of mine pulled me aside just as I was finalizing the event schedule and told me something even more profound. She said, "Keith, you know I love you, and I really don't mean to be critical, but…these are all Christian voices. Don't you think it's important to hear from those outside of our faith circles? I mean, don't we need to listen to the wisdom of people who are NOT Christians?"
How could I be so blind? I knew she was right. So, I invited a Hindu, and a Muslim and two Buddhist monks to share also.
Can you believe it? This conference is truly going to be unlike any other Christian Conference ever!
But, then came the most heartbreaking realization of all. My best friend sent me an email and simply said this: "Wow, that's a lot of housed people you've got speaking. Too bad you couldn't feature the voices of the homeless somehow."
He was right. I was ignoring the homeless this whole time and I didn't even see it. So, I thanked my friend for his insight and called a few of my homeless friends to see if they would also like to share their wisdom at this conference. Thankfully, they agreed and I added them to the roster, too.
So…now I can't wait to launch this amazing, unprecedented, world-class lineup of teachers and speakers for this one-of-a-kind Christian Conference coming in early 2021.
Now, with such a large and extensive lineup of speakers we can only allocate about one minute and 24 seconds for each person to share their wisdom with us.
Hopefully that won't be a problem.
I'm thinking we'd like to pay each keynote speaker a modest honorarium of $100, so that means I'll have to charge around $5,000 per ticket to cover those costs, but I'm pretty sure that won't be a problem once people see just how much amazing content they'll get for the price of registration. It's really a bargain when you think about it.
But, then again, maybe we shouldn't charge anyone to attend this conference at all? I mean, Jesus never charged anyone to sit and listen to him teach, did he?
Hmm…that's true.
Ok, here's what I think might work. What if all of these people just posted their message on their own personal YouTube channel or Facebook wall or blog? That way everyone could just read it or watch it for free! Wow. Hey, that might work!
So, really, all I need to do is to create a landing page with links to all of these people and promote this as a free Christian Conference featuring all these AMAZING speakers and then anyone who wants to watch or listen can do so whenever they like.
I love it!!
Or…maybe I don't even need to create a landing page for this virtual Christian Conference at all. Maybe people could just use Google search to find those people and watch those videos and read those posts?
That sounds great, doesn't it? Look at that! I just created the most amazing, diverse, inclusive and robust Christian Conference ever imagined! It includes voices from the White, Black, Asian, Native American, and LGBTQ community, and it also includes the homeless, the disabled, other faith groups, the elderly and small children!
Wow.
Well, I don't know about you, but I'm exhausted. All of this planning and organizing can really wear you out.
Thanks for helping me process this, my friends. I'm glad we could do this together.
**
Keith Giles and his wife, Wendy, work with Peace Catalyst International to help build relationships between Christians and Muslims in El Paso, TX. Keith was formerly a licensed and ordained minister who walked away from organized church over a decade ago to start a home fellowship that gave away 100% of the offering to the poor in the community. Today he is the author of the best-selling "Jesus Un" series of books, including "Jesus Unexpected: Ending The End Times To Become The Second Coming" which is available now on Amazon.