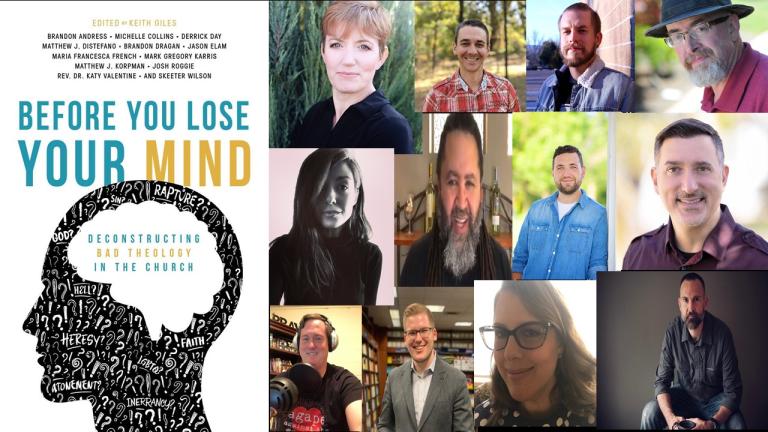 Recently, our friends at The Gospel Coalition released a book by various authors called "Before You Lose Your Faith" which was intended to provide guidance for those going through Deconstruction and/or to educate those who just don't know what it's all about.
Sadly, The Gospel Coalition doesn't really understand what Deconstruction is all about, either.
So, their book includes tone-deaf statements like these:
"Whatever your struggle, it gets better with more—not less—Christianity. It might be tempting to leave the church in order to find the answers. But we want you to reconsider the church as the best place to deal with your doubts and deconstruction." – Ivan Mesa [from the Introduction to the book]
"Perhaps you're in a season of questioning, or have even arrived at a moment when "deconstruction" best describes your current state. I'd like to be upfront about three things in response. First, whenever I address those who describe their faith journey in this way, I remain committed to doing my best to persuade them of the truth and beauty of Christianity, because I hold on to the hope that a reconstructed faith on the other side of this journey of doubt can be stronger and more vibrant than anything they've experienced so far. Second, a reconstructed faith will require recovering Christian orthodoxy, not departing from it. Let me put it this way: recovering your faith will include recovering the faith, not altering Christian words like "love" and "grace" and "mercy" by filling them with meanings derived from contemporary culture. Third, no matter how long friends remain in a state of disbelief in the gospel and disobedience to the Lord, I remain devoted to them and their wellbeing—and that's why I pray they'd be haunted by the Jesus of the Gospels until they are mesmerized by his power and love, taken with his beauty, and yearn to once again belong to his people."  – Trevin Wax [From Chapter 1]
All through their book the various contributors expose their ignorance on this topic by suggesting that people decide to Deconstruct, people should not leave their Church just because they have questions, and that once Deconstruction is over, people should return to exactly the same place they started out from.
None of these things make any sense for any person who has actually Deconstructed their faith.
First of all, Deconstruction isn't something anyone just decides to do. As if it's on your "To Do" list somewhere between picking up the dry cleaning and walking your dog. Instead, those who actually understand this process already know that Deconstruction happens to you somewhere along the way. Before you know it, you've asked one too many questions, read one too many books or watched one too many YouTube videos that totally dismantle your previously held suppositions about the Christian faith.
Once you see it, you cannot "un-see" it. Once you know something, you cannot "un-know" it.
Secondly, people who leave their Church due to Deconstruction do not do so because they think it will be safer or easier to do so. Instead, they leave their Church because they either A) were asked to leave by their Pastor because they just wouldn't stop asking questions, or B) they are made to feel so unwelcome by their Church that to stay would require more strength and energy than they have left.
The Gospel Coalition book suggests that "church should be the best place to deal with doubts." And, while I agree with that statement – it SHOULD BE the best place to deal with doubts – the sad reality is simply this: Churches are NOT safe places to deal with your doubts.
This is why people are leaving. This is the only reason they are leaving.
The other huge mistake the Gospel Coalition makes in their misguided book is pretty huge. They suggest that, after one has Deconstructed their faith, they MUST return to EXACTLY the same place as they were before they began.
This is not only ludicrous and impossible, it's frankly insulting to anyone who is currently going through the Deconstruction process.
To Deconstruct is to question your faith. No one who questions their faith will remain exactly where they started from. If they do, they're not done asking questions.
And I can't help but feel that, ultimately, this is what the Gospel Coalition really would prefer everyone do. Stop questioning. Stay where you are. Maintain the status quo.
In other words, "It isn't broken. Let's not try to fix it."
But, for everyone who finds themselves Deconstructing the very obvious truth is that it IS broken and it really, really does need fixing.
When I first heard about this book and read the first 50 pages of it, I knew I wanted to – needed to – respond. After speaking to several author friends of mine, we all agreed to collaborate together to publish a response to their book with one of our own…one written by authors who have actually Deconstructed their faith and who understand why it happens, how painful it is, and what people going through it really need.
So, I am very, very proud to announce the publication of "Before You Lose Your Mind: Deconstructing Bad Theology In The Church" today on Amazon.
First of all, the Kindle edition is 99 cents. That is not a sale price. That is the price. Forever.
The print edition is $9.99 and it clocks in at 246 pages.
The book features incredible chapters from some of the most inspiring authors I know. People who live and breathe Deconstruction and Reconstruction.
Our contributors are:
Brandon Andress
Michelle Collins
Derrick Day
Brandon Dragan
Matthew J. Distefano
Jason Elam
Maria Francesca French
Mark Karris
Matthew J. Korpman
Josh Roggie
Rev. Dr. Katy Valentine
Skeeter Wilson
A few of these authors recently joined me for a live Zoom webinar to talk about this project. You can watch this here:
The book covers a wide range of topics that those who are Deconstructing their faith will find extremely healing and helpful. We discuss the psychology of Deconstruction, the emotional grief and loss of questioning your faith, how to read Scripture thru the lens of Christ, why asking questions is what faith is all about, what sexual identity has to do with everything, and so much more.
I cannot wait for people to read this book.
I hope you'll help me spread the word about it.
I also need to quickly shout-out my publisher, Quoir Publishing, for taking on this project so eagerly and for being willing to waive their fees to make it as absolutely affordable and inexpensive as possible.
Deconstruction isn't going away. The future is being shaped right now. Those who ask the hard questions today are the ones who will help create the Christianity of tomorrow.
And I dare anyone to say otherwise.
**
If you're looking for someone to walk with you through this process, please meet me at Square 1.
Deconstructing your faith isn't easy. Don't go through it alone.
Starting May 10, we'll launch our next round of Square 1 – a 90-day online course and online community designed to help you navigate the Deconstruction process and move on to Reconstruction without Self-Destruction.
For a limited time, you can register for a whopping 75% off at this link HERE>
Keith Giles and his wife, Wendy, work with Peace Catalyst International to help build relationships between Christians and Muslims in El Paso, TX.  Keith was formerly a licensed and ordained minister who walked away from organized church over a decade ago to start a home fellowship that gave away 100% of the offering to the poor in the community. Today he is the author of the best-selling "Jesus Un" series of books, including "Jesus Unforsaken: Substituting Divine Wrath With Unrelenting Love" which is available now on Amazon.