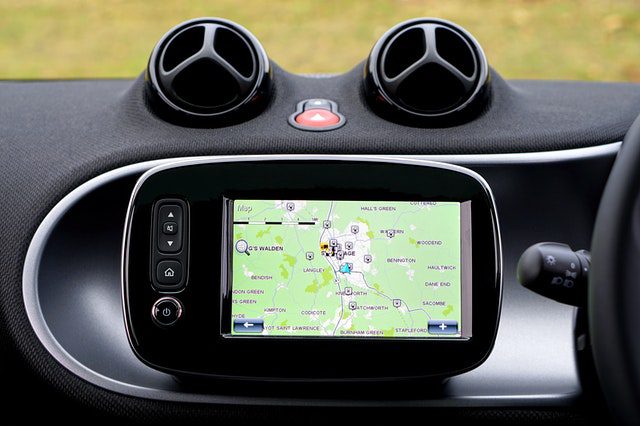 "Turn around when possible."
"But you told me to go this way," I yell at the GPS!
Another day it tells me to take an exit ramp only to have me cross a highway and get right back on the interstate I had been on! It makes no sense yet I do it.
It reminds me of a scene from "The Office."
Michael and Dwight are on their way to visit a client. The GPS in their rental car says, "Make a right turn."
Dwight says, "No, wait, it means bear right."
Michael trusts the machine more than his friend. "It said, 'Take a right.' "
Dwight replies, "No, it means, go up to the right, bear right, go over the bridge, and connect to 307."
The GPS continues to demand, "Make a right turn."
Michael reasons, "Maybe it's a shortcut. It said go to the right."
Dwight exclaims, "It can't mean that, there's a lake there!"
Michael insists that the machine knows where it's going and makes the right turn which takes him directly into the lake!
I laugh and recognize I'm a lot like Michael, at least in this situation, I trust the navigational system more than I trust myself.
A similar thing happened in my spiritual life.
Following are some of the "directions" I heard that about drove me into a lake:
1. Trust Bible teachers/pastors more than God's Spirit in you.
I reasoned that these men of God must know more than I did. They had been to seminary. I was just a stay-at-home mom with no understanding of Greek or Hebrew. I leaned heavily on what others said and wrote, but even these "learned" men didn't all agree.
The Spirit said, "Listen, you know my voice. I will guide you. Relax."
I John 2:27 told me I didn't need anyone to teach me what is true because the Spirit would teach me everything I needed to know. The Spirit also reminded me that the disciples were ordinary men with no special training in the Scriptures. (Acts 4:13)
I could learn some things about God from the Bible and from teachers, but I learned a lot about God through the people in my life, through nature, and stillness.
2. Don't trust yourself.
I believed my heart was wicked and beyond cure and my feelings were not trustworthy.
That must be right I thought because "The heart is deceitful above all things and beyond cure." (Jer.17:9)
But the more I shut myself down, the more anxious and sick I became.
Spirit reminded me, "You are created in the image and likeness of God. You are very good. And you have been given the mind of Christ." ( Gen. 1, I Cor. 2:16) I am in you, you are in me. (Jn. 14:20) My spirit is within you, be still, and listen and you will find the peace, joy, healing, and wholeness you long for.
3. God won't forgive unless you repent and confess all your sins.
I would lie in bed, reflecting on everything I had said, done, and thought confessing to God and begging for forgiveness. I was so focused on sin avoidance I couldn't enjoy life!
But the Spirit said, I am not keeping a record of your wrongs, love doesn't do that. (I Cor. 13:5) There is nothing that can or will ever separate you from my love. (Romans 8:38)
If your heart condemns you, know that God is greater than your heart, and he knows all things.(I Jn 3:20)
I was reminded that the prodigal son had a whole speech ready for his father, but the father didn't care one bit about his "confession." The father ran to him, embraced him, threw a party for him. No begging, no pleading required. How wonderful to think we have a God who delights in us, even when we've "sinned."
4. Do not hang around "bad" people.
I Cor. 15:33 did warn that bad company corrupts good character.
This made my world very small and "safe." Everyone looked, acted, and tried to be the same. But I became judgmental and critical (maybe I was the "bad company") and my world was so small.
My spirit said, "Who am I to judge? And aren't I to love my neighbor as myself? Aren't we all 'mixed bags'?"
John 8:15 told me that Jesus didn't judge anyone. And Jesus' life showed me he preferred "bad company" over the religious elite. Ouch! What was I doing trying to become one of the "elite"?
My heart and life changed when I opened myself up to relationships with Muslims, atheist, homosexuals, and all those who had been "othered." It sure was freeing to love and enjoy the many colors, varieties, religions, and colors that are in this world.
5. Go to church.
Hebrews 10:25 did say not to neglect meeting together. So I went three times a week. I enjoyed the community and the friendships.
But as I listened to the pastor one Sunday morning, I heard the Spirit say to me, "You have no idea what grace is." My form of Christianity had become all about doing to please God. This doing included church attendance, Bible study, hosting home groups, leading prayer groups. I really sensed God saying, "Stop." I pushed on, because I didn't think I could trust that inner voice, but I became more and more uncomfortable with the hierarchy within the system, with the focus on sin management, with certain interpretations of Scripture, and with the performance required.
The Spirit said, "What is the church? Is it a building? No! It's people. I live and move in you and others. Where can you go that I am not with you? Yes, you need people, you were built for community, for relationship, but I don't care when or where you 'meet together.' "
Acts 17:24 and I Cor. 3:16 say, "God does not live in temples built by human hands. You yourself are God's temple."
I had and still have many beliefs that aren't healthy. We all listen to and are influenced by voices that were meant to direct us on our journey but sometimes they just aren't right. We all have to learn to listen to the voice within that says, "Turn around when possible," or you may end up in a lake.
ABOUT AMY CHUMBLEY
Amy is a recovering religious addict who began writing as a form of therapy. Her work has been published in several online magazines including: She Loves, Perennial Gen, The Glorious Table, The Grit and Grace Project and more. Her business, "Breathing Room Interiors," has given her the opportunity to pursue her passion for creating beautiful and functional homes. She is a military spouse, proud mama, and dog lover.
**
COMING SOON: My new solo podcast "Second Cup with Keith" will launch soon on Spotify, Apple and Google podcasts, and it's also available on the Ethos Radio App on the App Store.