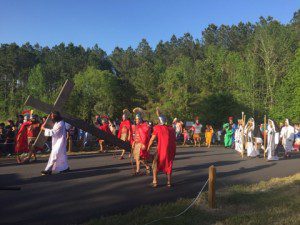 Yesterday afternoon I had the opportunity to attend the living stations of the cross at Saint Gregory the Great Parish in Bluffton, South Carolina.  This is the neighboring parish to the north of the Cathedral of Saint John the Baptist in Savannah.
This is the eighth year that the Hispanic community at Saint Gregory organizes this beautiful and prayerful event for the entire parish community.  I was impressed that though the stations were held in Spanish, over half of those in attendance were English speaking.  Everyone knows the story, so there is no language barrier.
This rich tradition brings to life the Passion of Jesus Christ.  Both children and adults enter into the narrative in an exceptional way.  As I walked, Peter stood next to me as he rebuked one of the women who accused him of being a disciples of Jesus.  As the faithful follow along, every one of them is inserted into the Gospel as it comes to life around you.  It is impossible to keep tears from flowing down one's eyes.  These profound expressions of popular religiosity serve as an evagelization tool, especially as children learn the story of Jesus by seeing it unfold before them.
What a unique and special way to meditate the Passion of Christ on Good Friday.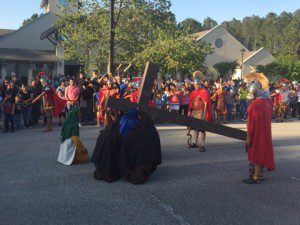 Jesus is met by his mother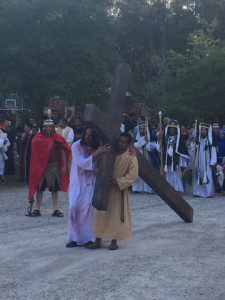 Simon of Cyrene helps Jesus carry the cross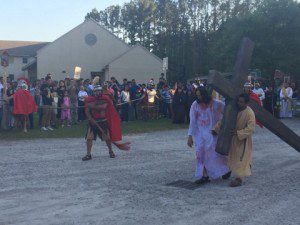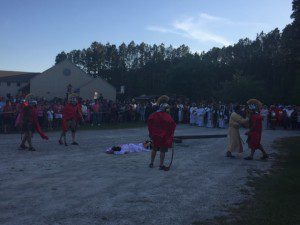 Jesus falls the second time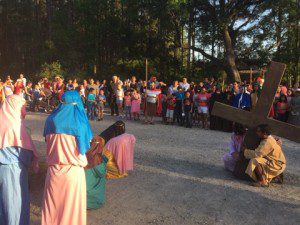 The weeping women of Jerusalem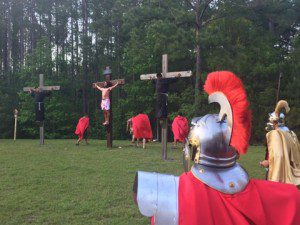 Jesus dies on the cross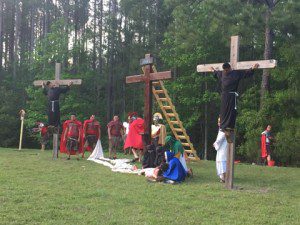 Jesus is taken down from the cross