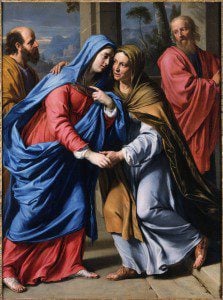 My mother always tells me that wherever I go, I run into people I know. Traveling with Bishop Hartmayer throughout the diocese I often see familiar faces in unexpected places. Just in the past two weeks, I have seen a couple from Warner Robins attending Mass in Americus and a young man from Savannah in Macon. Some months ago, I bumped into a family from Swainsboro at the Statesboro Chick-fil-a. Recently before celebrating Mass in Savannah, a man wishing to speak to a priest entered the sacristy. I recognized him immediately even though I had not seen him in over twelve years. I greeted him by name. He was surprised. "Do we know each other?" he curiously asked. "Yes," I replied proudly. "I took one of your courses in college."
Our lives intersect daily with the lives of others. The depth of these encounters vary of course, yet a constant remains: an exchange of words and gestures takes place. As human beings we need others to be fully alive. A human person flourishes the more he or she seeks "the other." So many times our words or actions have a lasting impact on others, including strangers only encountered once. Ideally the impact is positive, but it can also work in the opposite direction.
I recall filling in at a parish after an emergency arose for its pastor. While there, I witnessed the marriage of a young couple I had never seen before and thought I would never see again. Several years later I was taken by a parishioner to bless several homes at a trailer park outside the boundaries of my parish. As I entered one of the homes, my eyes were drawn to an enormous wedding picture in the living room. Knowing already the answer to my question since I recognized the church, I asked the couple where they had married. Their answer surprised me, "Father you should know. You married us." We were all thrilled to share a meal three years after their marriage.
Some invoke the saying "what goes around comes around" as a reason to be kind to others. As Christians this is not enough. We encounter our neighbor and treat them with love and dignity not because we worry about our own future. We do it as a response to the challenging words of Jesus himself "do unto others as you would have them do unto you" and "as I have loved you, so you must love one another." My college professor did not teach me well in order to have a priest available twelve years later. He taught well, showing great love and kindness to his students because that was his calling from God at that particular moment in time.
Stressing a "culture of encounter" from the start of his Papacy, Pope Francis challenges us to create an environment where we encounter others with love and dignity: "We are accustomed to a culture of indifference and we must strive and ask for the grace to create a culture of encounter, of a fruitful encounter, of an encounter that restores to each person his or her own dignity as a child of God, the dignity of a living person… if I don't stop, if I don't look, if I don't touch, if I don't speak, I cannot have an encounter and I cannot help to build a culture of encounter."
Picture from the public domain, The Visitation