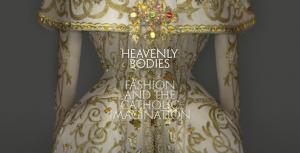 All of a sudden, pictures of very odd dresses began to appear on my Facebook feed.  One woman appeared to be wearing a miter, but I did not know what to make of it.
After some quick investigating, I learned that the Met is opening an exhibit named "Heavenly Bodies: Fashion and the Catholic Imagination."  A gala was held where famous people wore some of the dresses of the exhibit.  As I kept reading and looking, I learned this was causing quite a bit of controversy among some Catholics.
I recalled the 2011 response by the Mormon Church to the Broadway musical "Book of Mormon."  I have not seen it, but I am very familiar with its music and story line.  The musical desecrates all things Mormon.  The Mormon Church responded confidently and calmly, "the production may attempt to entertain audiences for an evening, but the Book of Mormon as a volume of scripture will change people's lives forever by bringing them closer to Christ."
Wow.  What a great response.
For those offended, perhaps we can look at the Gospel of Matthew to find consolation, to calm down, and to let it go: "Blessed are you when the insult you and persecute you and utter every kind of evil against you falsely because of me.  Rejoice and be glad, for your reward will be great in heaven."
Some may see this Gala in a positive light.  The modern world recognizes that something such as the "Catholic Imagination" exists.  After all, the history of Western Art is the fruit of the Catholic Imagination.  Cardinal Dolan was present at the exhibit, and even the Sistine Chapel Choir made an appearance.
We cannot get so distraught.  We should not even be surprised this type of thing happened.  No servant is greater than his master.  Our master got crucified.  We should be able to handle some people walking around with irreverent and absurd dresses for an evening.
Picture taken from here – Met Museum Website