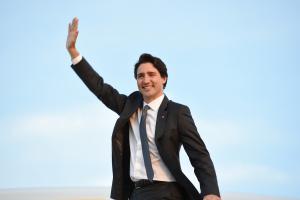 Hace poco tuve la alegría de asistir a la graduación universitaria de mi sobrino en Yankee Stadium. Después de cuatro años de estudios rigurosos en New York University, estoy orgulloso de sus éxitos y anticipo sus logros futuros. Quedé intrigado al saber que el primer ministro canadiense Justin Trudeau dirigiría unas palabras a los graduados durante la ceremonia.  Este político aclamado fue recibido por los presentes con fuertes aplausos mientras caminaba hacia a una carpa sobre la tercera base del estadio.
Me impresionó su optimismo y entusiasmo. El tema general de su discurso reflejó temas que muchas veces toca el Papa Francisco como la importancia de escuchar al prójimo, especialmente aquel con quien no estoy de acuerdo. Trudeau acertadamente pronunció, "no hay religión en el mundo que pida tolerar al prójimo. Así que intentemos algo un poco más como aceptación, respeto, amistad y, sí, incluso amor." Su discurso giró en torno a nuestra humanidad común, criticando el "tribalismo" donde personas sólo interactuaran y escuchan a aquellos con quienes están de acuerdo. Me pareció interesante que entre los ejemplos que proporcionó de tribus exclusivas que deben ser evitadas incluyó la tribu "pro-aborto."  El primer ministro dijo, "el pertenecer a una tribu no es problemático, pero si su consecuencia: tú no eres parte de mi tribu."
Desafió a los graduados con estas palabras: "déjense ser vulnerables a otro punto de vista… ábranse a las convicciones de otras personas, y arriésguense a ser convencidos por la validez de su perspectiva.  Esta realidad da temor: el descubrir que alguien con quien estas vehementemente en desacuerdo podría tener un punto. E incluso pueda tener razón." Invitó a sus oyentes a escuchar y comprender, buscando el terreno común donde se encuentran soluciones. Recordó a los graduados que cuando uno muestra respeto hacia las personas con quien uno no está de acuerdo, uno mismo tiene una mejor oportunidad de ser escuchado.
Aunque Trudeau invitó a los graduados a interactuar con el mundo sin miedo y escuchar atentamente a los demás, el primer ministro hizo una breve declaración que demostró que algo de importancia estaba ausente en su discurso. Indicó: "permítanme ser muy claro: esto no es un argumento a favor del relativismo moral o una declaración que todos los puntos de vista son válidos." Superficialmente esta breve declaración parece estar en conformidad con las enseñanzas de la Iglesia, la cual reconoce que la verdad existe y que no todos los puntos de vista son válidos. Trudeau expresó que la mutilación genital femenina siempre es incorrecta, y que no se puede negar el cambio climático antropogénico. Sus palabras hacen surgir la siguiente pregunta: ¿quién determina cual punto de vista es correcto o incorrecto? ¿el estado? ¿el consenso político internacional? ¿el individuo? Trudeau habló elocuentemente sobre la necesidad de escuchar y comprender diversos puntos de vista, pero nunca indicó cómo uno determina la veracidad o el error de ellos. Los cristianos reconocemos que la medida de la verdad es Cristo, pero en un estado secular post-cristiano, ¿quién determina la verdad?  ¿Con que autoridad puede Trudeau en su argumento proclamar que un punto es correcto y otro incorrecto? Aunque Trudeau no cree favorecer el relativismo moral, la falta de cómo o quien determina la veracidad de un punto de vista conduce al relativismo moral, o tal vez incluso peor, a que un estado totalitario o una religión secular determine la verdad.
El primer ministro motivó a los graduados a que sean líderes valientes y sin miedo a la diversidad. "El liderazgo que necesitamos más hoy… es el liderazgo que une a la gente." Criticó la política polarizada que divide. El excelente discurso de Trudeau fue edificante ya que reconoció la necesidad de unidad, diálogo e inclusión, pero desafortunadamente nunca especificó quien tiene la última palabra en cuanto a lo que es correcto y lo que no lo es. Nuestra fe católica nos invita a escuchar a los demás, dialogar, participar y demostrar respeto, pero a la vez nunca perdemos de vista a Jesucristo como ancla de la verdad.
Picture is part of the Public Domain.  Click here for information.
Canadian Prime Minister Justin Trudeau waves goodbye as he boards his plane at Joint Base Andrews, Md., March 11, 2016. Trudeau leaves after completing a three-day state visit with U.S. President Barack Obama to strengthen U.S.-Canada relations. (U.S. Air Force photo by Senior Airman Joshua R. M. Dewberry/RELEASED)