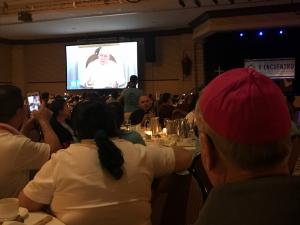 Pope Francis addressed the 3,500 delegates gathered for the opening of the V Encuentro near Dallas Texas on a giant screen.  The Pope encouraged the delegates and stated that the Encuentro is a concrete way that the Church in the USA is responding to the challenge of leaving behind a comfortable place in order to seek communion with those who are desperately seeking hope.   He challenged us to seek ways to better respond to the presence of youth and of Hispanic families within the Church.
The brief video was received with a fervent standing ovation.  Archbishop Christof Pierre, Apostolic Nuncio to the United States, spoke immediately afterwards.  He described the days of this National Encuentro as "dias fundamentales para la iglesia en los Estados Unidos."  The Archbishop identified six characteristics of a missionary Church which Pope Francis himself noted in Evangelii Gaudium.  Most interesting however were his comments under the fifth characteristic: a missionary Church bears fruit.  He noted that when the sower sows seed, he takes good care of the wheat and does not despair about the presence of the chaff.  After this reference to the well-known parable, Pierre said, "today in the Church we need much discernment and patience to face what we are living.  The Son of Man is sowing good seed in the Church and in our nation.  Things are not always clear – patience and discernment are necessary.  The Church exists to bring about conversion, not to condemn."  After Cardinal DiNardo and Archbishop Garcia Siller had addressed the current abuse crisis in the Church in their welcoming remarks, it was interesting to hear Archbishop Christof Pierre's comments which reflect the thought of Pope Francis.
During the next three days, delegates from almost every diocese of the United States will engage in constructive dialogue in order to identify concrete ways that every baptized person can be a true missionary disciple.  The Church must at its heart be missionary and dynamic, otherwise it risks becoming irrelevant.
Following the rich history of four previous Encuentros held in 1972, 1977, 1985, and 2000, there is much hope that this Encuentro will continue to foster great zeal for evangelization.  Most of the delegates are young adults, reminding everyone that the Church is young and full of hope.  There is a lot of joy and excitement.  Cardinal DiNardo noted that "the Encuentro is a light that illuminates the way forward."  In the midst of so much tragic news, the Encuentro is fresh air reminding all the delegates the Christ is at the heart of the Church, and despite our unfaithfulness, he remains faithful.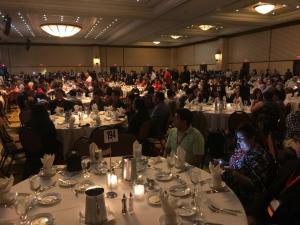 Pictures are mine, all rights reserved.  Dallas, 2018.