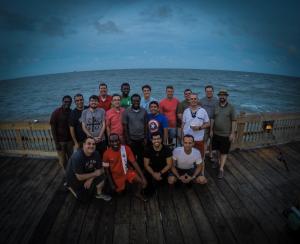 God has blessed our diocese with five new seminarians this academic year. I am reminded of God's love for His people that He continues to place a desire for the Priesthood in the hearts of young men so that He can manifest Himself through the sacraments of the Church. The prayer and support of so many faithful throughout South Georgia tremendously enc ourage young men to consider the Priesthood, and to take the concrete step to apply for seminary.
Now that we are living at a time when there is much pain, division and confusion in our country, our Church and our world, we rely ever more so on the power of prayer, and trust in the presence of Christ among His people to bring healing and peace. Men continue to respond to God's call generously because they wish to valiantly preach the Gospel and to be true instruments of Christ's presence. It is easier to respond to the call to Priesthood when the waters are calm, but our men are ready to face the current turbulent waters aware that Christ is with them.
Some weeks ago I wrote our seminarians some words of encouragement, and among my words I included, "I know you are in the seminary because you have chosen to respond to an invitation from Jesus Himself to follow him in a radical way. He has filled your heart with great love for Him and His people. As investigations now come, and we wait for what the near future will bring, we remain steadfast in prayer, trusting that Jesus is cleansing and purifying the Church so that future generations of saints will come. In the spirit of reformer saints of the past like Saint Francis and Saint Henry, we move forward knowing that we are called to be part of the renewal of the Church we love."
I am filled with much hope as the years go by and I see the excellent men who are preparing for Priesthood. I see today a seminary system preparing men who are truly striving for holiness and the service of God's people. In a world where there is so much darkness, Jesus continues to be a bright, shining light in our families, communities, and world. Our seminarians, our future priests, are bearers of that light.
Picture of seminarians of the Diocese of Savannah. Picture by seminarian Ziemowit Janaszek, 2018.