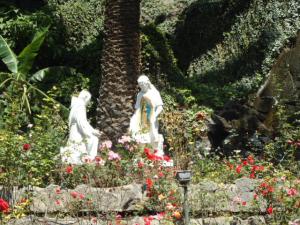 The Virgin Mary appeared four times to Saint Juan Diego on December 1531, only ten years after the defeat of the Aztec empire in Mexico by the Spanish. This time period marked the integration of Spanish and native cultures which ultimately gave rise to a unique people and culture which continues to flourish today throughout Latin America.
Click aqui para mi homilia de hoy
Mary's words to Juan Diego were soon recorded in the work called Nican Mopohua written in Nahuatl, the language of the natives. Her words for this new mestizo society that was forming in Latin America were of maternal care and encouragement. In the first apparition on December 9th she said to Juan Diego, "Know and understand well, you the most humble of my son, that I am the ever virgin Holy Mary, Mother of the True God for whom we live, of the Creator of all things, Lord of heaven and the earth. I wish that a temple be erected here quickly, so I may therein exhibit and give all my love, compassion, help, and protection, because I am your merciful mother, to you, and to all the inhabitants on this land and all the rest who love me, invoke and confide in me; listen there to their lamentations, and remedy all their miseries, afflictions and sorrows."
During the days surrounding the anniversary of the apparitions, an estimated five million pilgrims visit the shrine north of Mexico City, most commonly called "La Villa" by locals.  Adding the fifteen million who visit throughout the year, the shrine is the most visited Catholic site in the world.  Our Lady continues to keep her promise making the Tepeyac Hill a place where she gives all her love, compassion, help and protection to the inhabitants of the world.
During the fourth apparition on December 12th Our Lady said to Juan Diego, "Hear me and understand well, my son the least, that nothing should frighten or grieve you. Let not your heart be disturbed. Do not fear that sickness, nor any other sickness or anguish. Am I not here, who is your Mother? Are you not under my protection? Am I not your health? Are you not happily within my fold? What else do you wish? Do not grieve nor be disturbed by anything."
The Virgin Mary's maternal words to Juan Diego continue to echo in the hearts of all those who love her, especially the twenty million pilgrims who visit her shrine each year.  Devotion to Our Lady of Guadalupe runs deep in the blood of the Mexican faithful and plays an integral role in their identity as Catholics and Mexicans.  Our Lady of Guadalupe is a reflection of who they are as a people and has sustained them throughout their turbulent history.
May our hearts be transformed throughout these days of joy as we approach the arrival of Jesus Christ at Christmas.  May we join the prayer of Pope Francis who in his exhortation Evangelii Gaudium teaches us to pray like this, "Lord, I have let myself be deceived; in a thousand ways I have shunned your love, yet here I am once more, to renew my covenant with you.  I need you.  Save me once again, Lord, take me once more into your redeeming embrace."
Pictures are mine, all rights reserved.  Mexico City, 2012.