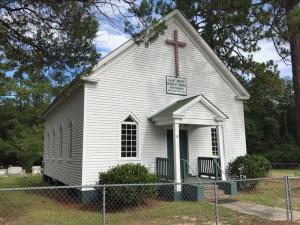 There is a small, old Catholic church not many know about in rural Georgia.  For decades it was the only Catholic church between Augusta and Savannah serving a small Catholic community.  I have driven countless times between those two cities, and I never knew about Saint Joseph Catholic Church in Bay Branch just a few yards away from Highway 21.  Yesterday I found it and took some pictures.
After the Civil War in the 1870s, Slavic and German Catholic families moved to Screven County, but typical of Catholic rural communities in Georgia in the 1800s, these families kept the faith alive mostly in isolation with only an occasional visit from a traveling priest from Augusta or Savannah.    Mass was celebrated in the homes of various families.  It wasn't until 1908 when Father Joseph Mitchell saw the need to build a church in Bay Branch, and Saint Joseph was dedicated in 1911.
With the increase of Catholics in neighboring towns later in the 1900s, and the construction of many missions by Glenmary Home Missioners throughout the 50s and 60s in these other towns, Saint Joseph experienced a decline in attendance.  It is still a functioning mission under Our Lady of the Assumption in Sylvania, but Mass is celebrated only on special occasions.  The church has retained its original look, and the cemetery behind it is still an active burial ground.
The Diocese of Savannah has a rich history of rural Catholicism, with missions such as Holy Family in Willacoochee and the old Saint Patrick and old Saint Bridget (now Saint Ann) in Alapaha, both communities of Irish immigrants founded in the mid 1800s.  Catholicism in South Georgia was mostly an urban phenomenon in the 1800s with rural exceptions where faithful Catholics courageously remained steadfast to the faith of their ancestors.  The Catholics of Bay Branch are an example of men and women of deep faith who overcame many odds to transmit the faith to their children and grandchildren.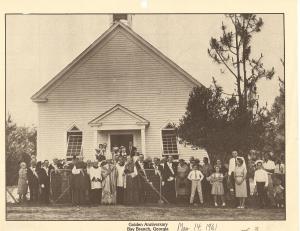 Golden Jubilee of Saint Joseph, Bay Branch in 1961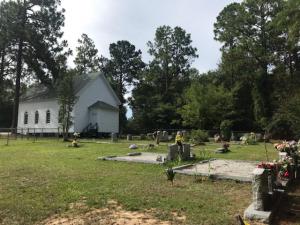 Old picture belongs to Our Lady of the Assumption Catholic Church, Georgia.  Other pictures are mine, all rights reserved.