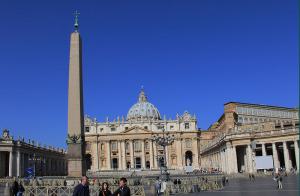 En el centro de la Plaza de San Pedro en Roma hay un gran obelisco egipcio. A pesar de ser muy antigua la basílica, este obelisco es aproximadamente 3.500 años más viejo, y ha permanecido cerca de la Colina Vaticana por unos 2.000 años. El emperador romano Calígula transfirió este obelisco de la ciudad de Heliópolis a Roma y lo instaló en medio del Circo Vaticano en el año 37 d. C. Esta nueva arena deportiva fue construida al lado de la Colina Vaticana a las afueras de Roma. En el año 67 d. C. durante la persecución de la Iglesia por el emperador Nerón, San Pedro junto con cientos de otros cristianos fueron ejecutados en esta arena bajo la sombra del obelisco de Calígula. La tradición dice que Pedro fue crucificado al revés junto al obelisco en el centro de la arena ya que era el líder reconocido de la comunidad cristiana de la ciudad.
Cuando se construyó la primera Basílica de San Pedro en el siglo IV el obelisco permaneció en su ubicación original en el lado sur del templo. Hoy en día una inscripción en el Cementerio Teutónico dentro de la muralla vaticana marca la ubicación exacta. Cuando se construyó la basílica actual en el siglo XVI, el Papa Sixto V ordenó que el obelisco se trasladara al centro de la nueva plaza diseñada por Gian Lorenzo Bernini. Se necesitaron 900 hombres y 140 caballos para mover el enorme objeto en 1586.
El obelisco fue coronado con una cruz de bronce que contenía una reliquia de la verdadera cruz de Cristo, y dos breves inscripciones en latín en su pedestal informan al peregrino de su significado. La primera es una oración de exorcismo atribuida a San Antonio de Padua: Ecce Crux Domini / Fugite partes adversae / Vicit Leo de tribu Iuda, que traducido significa: He aquí la Cruz del Señor / Huyan fuerzas enemigas / Ha vencido el León de Judá. La segunda es una antigua aclamación utilizada en las ceremonias de coronación de los emperadores del Sacro Imperio Romano: Christus Vincit / Christus Regnat / Christus Imperat / Christus ab omni malo plebem suam defendat, que traducido significa: Cristo conquista / Cristo reina / Cristo manda / Cristo defiende a su pueblo todo mal.
Ambas inscripciones indican que la cruz se alza sobre el obelisco egipcio como signo de victoria. La cruz de Jesús, a través de su muerte y resurrección, ha conquistado todo mal y ha saciado los deseos de todo ser humano expresados a través de la diversidad de religiones que han existido en la historia. El antiguo obelisco apuntaba hacia el sol cuando se construyó en Heliópolis, pero ahora dirige la atención de todo peregrino que llega a la Plaza de San Pedro hacia la cruz victoriosa de Cristo, protegiéndolos y dispersando cualquier mal que se acerque.
La cristianización de Roma también vio la colocación de una estatua de San Pedro sobre la Columna Triunfal del Emperador Trajano y una de San Pablo sobre la Columna del Emperador Marco Aurelio.  La construcción de estas estatuas de bronce en el siglo XVI sobre las antiguas columnas conmemorativas de conquistas militares significativas representa la victoria del cristianismo sobre la Roma pagana.
La fiesta de la Exaltación de la Cruz el 14 de septiembre es un recordatorio para nosotros de colocar la cruz de Cristo sobre todo lo que somos y hacemos.  Cristo desea nuestra vida en su totalidad, y nos invita a rendirnos completamente a Él.  La victoria de Jesús en la cruz informa todo en nuestras vidas y nos permite exclamar: "Te adoramos, O Cristo, y te bendecimos, porque con tu cruz has redimido al mundo."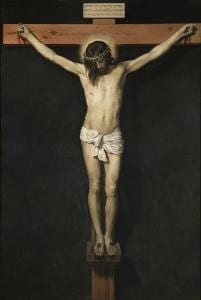 Pictures from the public domain. Information here and here.