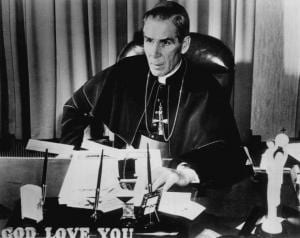 Rome has announced that Archbishop Fulton Sheen will be beatified next month. Seventeen years after opening the cause for canonization, and seven years after Pope Benedict officially recognized the Archbishop lived a life of heroic virtue, the beatification ceremony will take place at Saint Mary's Cathedral, Peoria, on December 21st at 10am.
Known for his many thought-provoking writings, and his television presence, he has been better known throughout these past few years for the dispute between the Diocese of Peoria and the Archdiocese of New York over his body. A court approved the transfer of the body from the Cathedral of New York City, Saint Patrick, to Peoria just last June. New York fought hard, but Peoria prevailed.
The Archbishop is best known for the television show he hosted from 1952 to 1957 called Life Is Worth Living. The show drew over 30 million viewers and he won an Emmy award. The Archbishop's efforts remind us that the Church must use the latest technology to preach the Good News. His creative example is important today reminding us that the Gospel must be present in what Pope Benedict called "the current digital continent."
There is already great joy and tremendous celebration in Peoria.