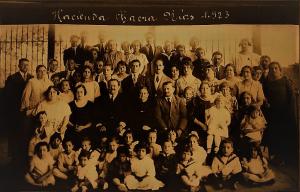 When my great-great grandfather immigrated to Peru in 1874, he was the first of four brothers to make the long and treacherous journey from the port of Genoa, Italy, south around the tip of South America to the city of Callao, which is just a few miles from Lima. The eighteen year old was employed by an older man called Benedetto Maggi who hailed from a town near to Emmanuele's own hometown. Eight years later, his young bride Paola made the journey from Italy with her brother Luigi, and as the eldest of many brothers, he ensured that his brothers follow him to Peru where there existed plenty of opportunities to work.
When I was a child, I recall an old aunt say that Emmanuele's youngest brother immigrated to the United States rather than to Peru. For years I searched for documents to confirm the existence of this youngest brother named Giuseppe, as well as possible descendants living in the United States. About ten years ago, I finally located Giuseppe's baptismal certificate at the small country parish of Pieve Ligure, confirming for the first time that he did exist. About two years ago, I discovered his death certificate which revealed he died a young man in Italy with two young children. Suddenly, the old family story appeared to be incorrect, Giuseppe died before he was able to go anywhere.
As I searched for descendants of Giuseppe's children, an unexpected result arose. I discovered that Giuseppe's son died in 1990 in Los Angeles, California. The family tradition was partially incorrect, but overall captured the truth that a Migone relative had immigrated to the United States. I immediately started a quest to find living descendants of this relative. About two weeks ago I had the pleasure of meeting Jay Migone and his wife Felicia, a great-grandson of Giuseppe and a third cousin of my father.
From faith, we understand the unity that exists among all human beings as children of God. Regardless of our differences, we have been created out of love by the same one God, and that creates an inviolable bond between us. Through my genealogical research however, I have discovered that genealogy places us on the great plane of humanity, as it identifies where we belong within the sea of millions of human beings. Genealogy grounds us and allows us to live aware that we are the current version of thousands of ancestors we never knew. My desire to research my family tree and record the many stories of my ancestors is so that every member of my family comes to know better about his or her past and feel more connected to their ancestors, and to grasp their place within human existence. A family tree reveals that is it impossible to be a "self-made" man or woman because each one of us depends on those who have come before us.
As I survey my ancestors, 29 of my 32 great-great-great grandparents were Catholic (the remaining three were Jewish). The same faith in Jesus Christ that my ancestors embraced, is the faith I believe. Genealogy and faith ground my humanity and my spirituality, giving me a sharper vision of where I come from, who I am, and where I am going. My meeting with Jay and Felicia reminded me that we are all connected, and are called to show the same love and kindness to all, because in the end, we are all connected, by bonds of family and faith.
Picture is mine, all rights reserved. Migone family Sunday gathering, Lima, Peru, 1923, from my great-great-grandmother Paola's album. My great grandparents Manuel and Emma are all the way to the right of the picture. My grandfather Fortunato is the child on the front row, four from the right.