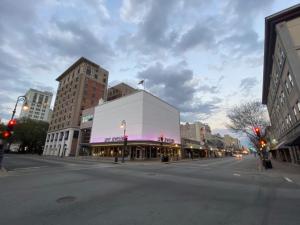 It seems as if March 2020 was a very long time ago. The streets of downtown Savannah were empty. There were no tourists, no pedestrians, and every parking spot was available. Most businesses were closed except the pharmacy and a few coffee shops. On March 27th, Pope Francis entered an empty and darkening Saint Peter Square for a special prayer service and blessing – one that captivated and consoled millions of souls worldwide.
He opened his message stating, "a thick darkness has gathered over our squares, our streets and our cities; it has taken over our lives, filling everything with a deafening silence and a distressing void, that stops everything as it passes by." As life has somewhat resumed with precautions and restrictions, it is easy to forget how dark things became at the start of this pandemic. It appears everyone knows either a person who died of COVID or someone who had a loved one die of COVID. As medical science has learned better ways to treat the illness, I know a good number of people who have recovered after being on the cusp of death.
I have considered how these past few months have allowed us to identify with our ancestors who faced unexpected and untimely deaths due to plagues and childbirth complications. We have forgotten collectively as the human race how fragile life truly is. Medical advancement has made us masters of our own destiny, saving many lives, and at times giving us a false sense of security that every illness and disease is treatable. I have also experienced a blind fideism where individuals hold that they are not afraid of the virus because God will protect them. Though these words sound pious, they can lead to gravely irresponsible actions. God gave us an intellect so we can make good decisions based on facts, and not expose ourselves to unnecessary risks.
In the prayer service, Pope Francis provided a sound path forward while speaking next to an old crucifix that was taken out in procession through the streets of Rome during times of plague: "we have an anchor: by his cross we have been saved. We have a rudder: by his cross we have been redeemed. We have a hope: by his cross we have been healed and embraced so that nothing and no one can separate us from his redeeming love." We move forward with the cross of Jesus, aware of both the suffering and glory it contains.
As modern society moves in uncharted waters, Cardinal Robert Sarah who heads the Vatican's Office for Liturgy and the Sacraments, sent a letter to the bishops of the world urging them to return to the normality of Christian life as soon as circumstances permit. He recalled the fourth century Martyrs of Abitinae who when imprisoned stated that they could not live without Sunday; meaning that they could not live without the gathering of the community for the celebration of the Eucharist. Every parish must take proper precautions, and individuals must be informed by their conscience when deciding when and if they are able to attend Mass at Church rather than on livestream. As our society gains a sense of normalcy with new protocols in place, we cannot forget Mass attendance if health and circumstances permit it.