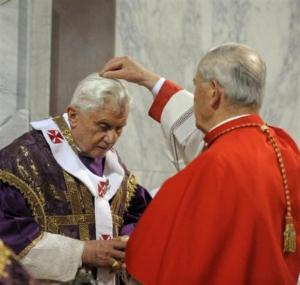 Tomorrow begins the season of Lent marked with the celebration of Ash Wednesday. Historically the days before Lent have been marked by intense celebrations such as Mardi Gras and Carnaval. Though official celebrations throughout the world have been significantly curtailed due to the COVID pandemic, today can still be celebrated in anticipation to the Lenten period of fasting, praying and almsgiving.
There has been somewhat of a buzz in regards to the distribution of ashes during the Ash Wednesday liturgy. When I was in seminary in Rome, only we at the North American College were marked by ashes on our foreheads. All others had ashes sprinkled over their heads. At the university, seminarians from throughout the world looked at us confused: why did they place the ashes on our foreheads? They found it bizarre. I have always thought that placing ashes over one's head is more in sync with the worlds of Jesus, "when you pray, do not be like the hypocrites, who love to stand and pray in the synagogues and on street corners so that others may see them… but when you pray, go to your inner room, close the door, and pray to your Father in secret."
As a precaution, bishops in the United States have suggested that ashes be distributed as they are in many parts of the world: sprinkling over the head. Some priests may still place them on the foreheads of the faithful. Either way, the ashes are a reminder that we are dust and that we will return to dust. It is a concrete call to conversion. The ashes, whether sprinkled on the head or traced on the forehead, remind us that we must convert, transform our lives and be ready to meet Jesus Christ at any given moment.
May your lent be fruitful.